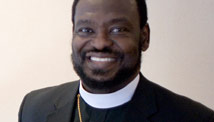 Editor's note: Bishop Harry R. Jackson Jr. is senior pastor of Hope Christian Church in Beltsville, Maryland, and founder and Chairman of the High Impact Leadership Coalition (HILC). He shares his thoughts on traditional marriage in "The Black Pulpit," a weekly series of opinion pieces that explores faith in the black community. CNN's "Black in America: Churched" premieres October 14.
By Bishop Harry R. Jackson Jr., Special to CNN
The institution of marriage is unique. It is the one institution that binds women and men together to form a family, and this serves broad societal purposes.
In California, a U.S. District Court Judge last week overturned Proposition 8, the California Marriage Protection Act. It was passed in November 2008 by California voters to recognize "only marriage between a man and a woman."
The majority of Californians, including two-thirds of the state's black voters, have just had their core civil right - the right to vote - stripped from them by an openly gay federal judge who has misread history and the Constitution to impose his views on the state's people.