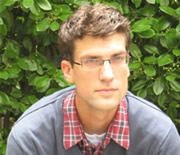 Editor's Note: David Bristow serves as a Christian youth director in northern Virginia and is a graduate student at Washington Theological Union in Washington, D.C.
By David Bristow, Special to CNN
Christmas may still be five months away, but what would happen if schools around the country decided to open their doors for the holiday?
I pondered the question after reading a CNN Belief Blog post in which Imam Khalid Latif, executive director of New York University's Islamic Center, argued that public schools should close for two prominent Muslim holidays in New York City.
Noting that more than 10 percent of New York City school students are Muslim, he suggests that the public school calendar grant the Islamic community the same holiday leisure as it already gives to Christian and Jewish students.
It's no surprise that readers' comments were highly diversified on the matter. But I didn't see my point of view represented among the hundreds of comments. A full-time Christian youth minister, I wouldn't care in the slightest if public schools opened on Christmas Day. I'm fine with school on Christmas.
Here's my reasoning: For those religiously devoted to Christmas, having school on the holiday might foster more faithfulness and community from professed Christians.
As the Christmas season becomes more and more secularized, various Christian segments have accommodated its material encroachment, often consuming massive amounts of product to the detriment of daily prayer, charity and genuine worship. Such a trend is not exactly what I feel Christ would want from his followers.
Yet having school open on Christmas Day could very well re-emphasize its true meaning for believer and non-believer alike. Devoted Christian families would have to miss school just as the country's Muslim youth should do for Eid ul-Fitr and Eid Ul-Adha.
Muslims aren't the only religious minorities that have to do this. Jewish students often miss school activities for Yom Kippur. In doing so, American Muslims and Jews make a subtle but radical point, that faithful believers— not New York City politicians or its Department of Education—determine how and when they nourish their souls on holy days.
Of course, such a viewpoint is not without detractors.
The Christian, like the Muslim, would have to accept the consequences dished out by local school systems for their absence—be it missed school work, soccer practice, AP tests, etc. However, this may be the cost of faithful witness when one's religiosity doesn't jibe with public education or modern democratic principles.
It is a faith-centered rationale that seems to be lacking among many mainstream Christians. For the life of me, I can't remember the last time a Christian youth had a "religious obligation" over and above a prominent public school activity. But I've encountered many a Muslim youth who has done so. Maybe it's time we Christians learned from our Muslim brothers and sisters.
The issue is not about getting sanctioned approval for a religious observance. At best, such rallying seeks to outwardly justify one's faith commitments and, at worst, relegates those same commitments to the whimsy of outside governing committees.
What I don't understand about Latif's post is why he feels Muslims would be any better off by having their holidays legitimated with school days off. To the contrary, his perspective runs the risk of over-accommodating the Muslim faith in the same way some Christians have watered down theirs.
Instead, why not continue to have thousands of Muslims miss school for the religious observances they hold so dear? It reinforces the idea that faithfulness to ones' sacred days are a personal affair. It should make no difference as to what New York City bureaucrats decide to do with Muslim holidays because, at the end of the day, they're not the ones in control of the matter.
I'm all for working with local governments, city councils and educational systems for the betterment of all. Yet a "working with" doesn't need to entail a "bowing down to," especially when it comes to matters of worship. What worries me most about Latif's argument is that he appears to seek integration largely for reasons other than those set forth by his faithful witness.
I pray that Latif understands that Muslim children don't have to attend school on their sacred days any more than Christians would if schools opened on Christmas. I hope he teaches Muslim students to realize that choosing between education and faith is to have already made a mistake. And I trust he'll comprehend how percentages or social demographics should never determine who gets a religious holiday and who does not.
Our faiths are too good for that. They deserve better.
The opinions expressed in this commentary are solely those of David Bristow.