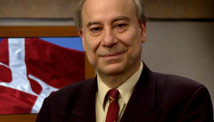 Editor's note: Akbar Ahmed is professor and Ibn Khaldun Chair of Islamic Studies at American University in Washington. He is author of "Journey into America: The Challenge of Islam," Brookings Press 2010.
By Akbar Ahmed, Special to CNN
The United States must resolve what I call the Great American Conundrum by clarifying its policy toward Muslims. It cannot treat its Muslim citizens as second-class citizens at home and hope to win them over abroad.
American Muslims complain of their second-class status by pointing out that their religion and houses of worship can be attacked with near impunity. When they do object, they are told that this kind of abuse is a small price to pay for living in a free society. Yet it is blatantly clear that only Islam is being attacked in such a crass fashion. It is virtually unimaginable to hear of any other ethnic or religious group being so targeted without an uproar.