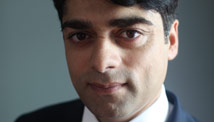 By Sharjeel Kashmir, Special to CNN
Editor's note: Sharjeel Kashmir is an investment banker who works on financial derivatives and banking strategy in New York City. He also works with international microfinance institutions on developing their corporate and governance strategies. He is an alumnus of Harvard Business School.
It's a beautiful August morning in Jersey City, New Jersey. I have just finished my regular jog around Liberty State Park. No matter how often I stand here at my favorite spot to stretch, I can only marvel that this is actually my neighborhood and my view.
In front of me, the Hudson River lies at the feet of the New York skyline. To my right, the Statue of Liberty basks in the glory of a thousand gazes from the first tour boat of the day.