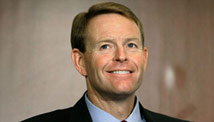 Editor's Note: Tony Perkins is President of the Family Research Council in Washington, D.C.
By Tony Perkins, Special to CNN
President Obama has shifted centuries of U.S. diplomatic parlance. We no longer speak of freedom of religion; now, it is only freedom of worship that our government defends.
This is a radical departure, one that threatens to make true religious liberty vulnerable, conditional and limited. As some have said, it is a freedom "only within four walls." That is, you are free to worship within the four walls of your home, church or synagogue, but when you enter the public square or go abroad, leave your religion at home.
In international forums, President Obama and Secretary Clinton repeatedly have retreated to this "freedom of worship" formulation. This is no accident.
Now, President Obama's representatives at the United Nations have shifted ground. The U.S. delegation to the U.N. recently spearheaded approval of the International Lesbian and Gay Human Rights Commission (IGLHRC). This outfit has just been recognized as a non-governmental organization accredited to the U.N.'s Economic and Social Council.
It's part of the Obama administration's campaign to press the U.N. to affirm the homosexual lifestyle worldwide. For example, IGLHRC members refused to answer the following question put to them in the U.N. last June: Would a member of the clergy be prosecuted for human rights violations if he or she preached on the sinfulness of homosexuality? No response.
Their silence is deafening. No wonder the NO votes plus abstentions exceeded the YES votes for seating this radical group. Significantly, the Egyptian delegate noted that his questions had not been answered. He charged the IGLHRC with violating tenets of Universal Declaration of Human Rights and the U.N. Charter itself. (Coming from Egypt, itself a persistent violator of these U.N. documents, the charge must have stung.)
With President Obama's nomination of Elena Kagan to the U.S. Supreme Court, the potential erosion of religious liberty only increases. Ms. Kagan has argued that incorporating foreign law into U.S. Supreme Court rulings would be "a good idea." She maintained in a legal brief that not only must U.S. institutions be barred from expressing disapproval of the homosexual lifestyle, but that a "society that tolerates (such) discrimination by its members is not a just society."
To Kagan, any public disapproval of sexual relations between men and men or women and women, or any attempt to give preference to marriage as the union of one man and one woman, will inevitably be seen as a form of invidious discrimination-and must be banned.
America's First Freedom–freedom of religion–is in danger of being hounded out of public life, expelled from the public square. The word to millions of believers–Evangelicals, Catholics, Lutherans, Orthodox Jews–is this: Be Amish or be quiet. Keep your quaint religious practices, mumble your odd prayers, but do so in private.
Think of the implications: You try sharing the Gospel with someone, and are accused of "hate speech" and told to be quiet. You have a Bible on your desk at work, and are told this is an aggressive display of a controversial faith–and to remove it. Your church has a float in the local Fourth of July parade and it's denied admittance next year because someone says the float violates his or her private convictions.
The above examples are hypothetical, but here are three that have already happened:
–You express disapproval of homosexual conduct and are summarily dismissed from your counseling degree program. This has happened to Julea Ward at Eastern Michigan University, and Jennifer Keeton at Augusta State University is under the same threat.
–Say you are a wedding photographer. A same-sex couple comes through your door demanding you provide photos for their commitment ceremony. You politely decline, stating that your religious convictions prevent you from entering into that contract. And you are promptly hauled before a human rights council. This happened to Elaine Huguenin in New Mexico.
–You object to your kindergartener being propagandized with a book titled King and King, which details the romance between two imaginary royal young men. You find yourself arrested and jailed when you go to your son's school to protest. This happened to David Parker in Massachusetts.
These things will become the norm in American life if the radical impulse to criminalize opposition to homosexuality is not thwarted.
As a candidate for president, Barack Obama pledged to bring "fundamental change" to America. He is doing that. Constitutional liberties that we have enjoyed for 219 years are being overthrown or reinterpreted with stunning speed.
Every poll shows Americans are resisting President Obama's agenda. But many in the mainstream media largely downplay these questions, dismissing them as mere "wedge issues."
For people of faith, these matters of faith and family go deeper. They are "bridge issues" that unite races and ethnicities, men and women, education and income groups.
The radical changes President Obama and his allies advocate threaten the America we love and the way we express our most deeply held moral and religious convictions. We will be neither silent nor inactive in the face of these challenges. With courtesy and civility but with unflinching determination, we will oppose them.
The opinions expressed in this commentary are solely those of Tony Perkins.