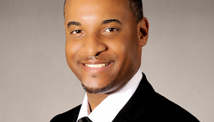 Editor's note: Bishop-elect O.C. Allen III is senior pastor of The Vision Church of Atlanta, and founder of The United Progressive Pentecostal Church Fellowship, an alliance of faith leaders and churches. He shares his thoughts on why marriage matters in the "The Black Pulpit," a weekly series of opinion pieces that explores faith in the black community. Next week: A view from a Buddhist female priest. CNN's "Black in America: Churched" premieres October 14.
I am a product of the "The Black Church." It shaped me into who I am today: a Christian pastor aware of God's amazing grace and love.
When I announced I was gay, the church limited that grace and love. Although I had no doubt that God loved me, I discovered that God's love and the church's love can be two different things.
To be Christian is to be inclusive of people who love one another. This is why I support same-sex marriage.