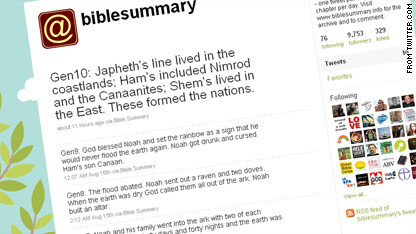 His is the kind of devout undertaking that would make the tech gods proud.
Chris Juby, a 30-year-old church worship director in the UK, has set out to tweet the entire Bible, one chapter a day. With 10 chapters down, having started August 8, he only has 1,179 to go.
The expected end date, if all goes as planned: November 8, 2013.
"It is rather crazy, obviously," he said by phone from Durham City in northern England. "But my real hope is that it will inspire people to read the Bible themselves."
He's already read the Good Book, cover-to-cover, three times. This time around he must grasp the meaning succinctly, in 140-or-less-character chunks.
Take Monday's tweet of Genesis 8: God blessed Noah and set the rainbow as a sign that he would never flood the earth again. Noah got drunk and cursed Ham's son Canaan.
News of his Twitter account, @biblesummary, is spreading at an ungodly pace, thanks to an article that appeared last Friday in his local paper, The Northern Echo. In a four-day span, his followers jumped from 80 to 9,000 and counting.
The e-mail requests from those who want to translate it into other languages have poured in from places like Korea, Russia and Germany. He knew he'd been featured in the Brazilian press when e-mails flooded his mailbox from that South American country yesterday.
"I'm absolutely astonished," Juby said of all the attention. "It's quite a simple idea, but it really captures people's imaginations."
Asked if any chapters ahead seem particularly daunting, he fast-fowarded to Psalms.
"Psalm 119 is long – 176 verses," he said. "Condensing 176 verses into 140 characters will be a challenge."