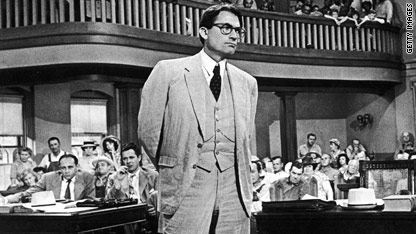 "In the name of God, do your duty!"
If you've ever watched Gregory Peck deliver those closing lines to a jury in the 1962 film, "To Kill a Mockingbird," you'll appreciate the powerful story behind his rousing challenge.
But will you appreciate the Christian parables spread throughout "To Kill a Mockingbird?" One high school English teacher is betting you will.
For millions of American school children, "To Kill a Mockingbird" was the first book that taught them hard truths about faith and integrity. The novel centers on Atticus Finch, a white lawyer in a segregated Southern town who decides to defend an African-American man unjustly accused of rape.
This year marks the 50th anniversary of the Pulitzer-Prize-winning novel by Harper Lee. The milestone has been marked with television specials and book festivals. But Matt Litton, a high school English teacher, decided to mark the anniversary with "The Mockingbird Parables," a book that looks at the spiritual lessons in the classic book.
Litton says "To Kill a Mockingbird" is filled with spiritual instruction. Today, it's easy to label the film as an example of liberal good will. After all, Peck was a liberal activist who took the Finch role after reading the book in one setting.
But Finch's decision to defend the black man was based on his faith, as he tells his bewildered daughter, Scout, in the book:
This case…is something that goes to the essence of man's conscience.  Scout, I couldn't go to church and worship God if I didn't try to help that man.
Litton notes in his book's introduction that Lee's novel was named the best novel of the twentieth century by American librarians.  "It is our nation's most widely read novel in grades nine through twelve," he writes.
It's also a novel that almost didn't happen, Litton writes.
Lee became so frustrated with writing 'To Kill a Mockingbird' that she simply tossed the entire manuscript out of her New York City apartment window where it could have been lost forever… But as the story is told, an encouraging phone call from an editor just moments later sent her to the sidewalk to recover the abandoned work.
Some think faith is confined to sacred books. But sometimes a story or a film can stir someone's faith as well. "To Kill a Mockingbird" has that kind of power for some people.
What film or book stirred your faith?