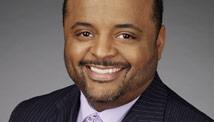 Editor's note: Roland S. Martin, a CNN political analyst, is a syndicated columnist and author of "Listening to the Spirit Within: 50 Perspectives on Faith," and the new book, "The First: President Barack Obama's Road to the White House." He is a commentator for TV One Cable Network and host of a Sunday morning news show.
By Roland S. Martin, CNN Contributor
"My faith in the Constitution is whole; it is complete; it is total. And I am not going to sit here and be an idle spectator to the diminution, the subversion, the destruction, of the Constitution."
Those eloquent words were spoken on July 25, 1974, by an outstanding woman and fellow Texan, Rep. Barbara Jordan, when she was a member of the House Judiciary Committee investigating the impeachment of President Richard Nixon.
And as I have listened and watched the stunning debate over the potential location of an Islamic community center and mosque two blocks away from where the World Trade Center towers were destroyed on September 11, 2001, Jordan's precise words keep coming to mind.