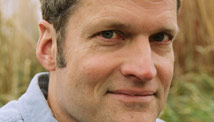 Editor's Note: Stephen Prothero, a Boston University religion scholar and author of "God is Not One: The Eight Rival Religions that Run the World," is a regular CNN Belief Blog contributor.
By Stephen Prothero, Special to CNN
CNN's John King was kind enough to let me say my piece about Islam, the Reverend Franklin Graham and President Obama last night. While I was barely able to get a word in edgewise in my last television appearance–on The Colbert Report–I was able to speak in full paragraphs on John King USA.
Still, I wish I had been able to say more.
I wish I had been able to say that Islam is indeed patrilineal in the sense that the children of a Muslim father are presumed to be Muslims at birth.
That said, as my Boston University colleague Kecia Ali recently reminded me, according to most Muslims everyone is a Muslim at birth–in the sense that each of us takes our first breath with the innate understanding that there is only one God, and that this God is not us.
However, to truly become a Muslim (which literally means "submitter"), you need to follow through on that intuition by submitting to God. You do this not by testing your DNA but by doing Islamic things, first and foremost by observing the Five Pillars of Islam.
I wish I had been able to say that Obama's father was an atheist who did not raise his son to be a Muslim, so it is incorrect to say–as Graham did, that he "has renounced the prophet Muhammad and he has renounced Islam,"–because you cannot renounce something you never affirmed.
I wish I had been able to say that none of the Muslims I know see Obama as a Muslim. They all know full well that Obama is at least as Christian as is Franklin Graham.
I wish I had been able to say that, just as it is baptism that makes you Catholic and conversion that makes you an evangelical Protestant, what makes you a Muslim is saying the Shahadah (or profession of faith), sincerely and (ideally) in the presence of witnesses.
I wish I had been able to say that Islam is a choice rather than an inheritance. It is not a medical condition, passed down through sperm, like original sin in the Christian tradition. It is a spiritual community of individuals choosing, one by one, to submit to what Muslims believe are the revelations delivered by the one God, through an angel, to the world's final prophet.
Finally, I wish I had been able to say that I don't see myself as an apologist for Islam. Muslims are just as flawed as Jews or Hindus. Like Christianity, Islam is a religion that knows how to wage both war and peace. And, yes, it has its scripture-quoting terrorists.
To have said any of this, however, would have been to play into Graham's disinformation campaign against both the president of the United States and the religion of Islam. The intention behind Graham's recent interview with John King was not to tell us something true about Islam. It was to spread suspicions about President Obama and misinformation about Islam. Or, to put it in the language of the Ten Commandments, it was to bear false witness.
Over the last few days, a series of commentators, including Peter Beinart, have pleaded with President George W. Bush to weigh in on the bitter controversy swirling around the Islamic community center and mosque near ground zero. As I was speaking on "John King USA" last night, I found myself pining not for President Bush but for the Reverend Billy Graham.
I don't think Franklin Graham's father was a saint. But at least "America's Pastor" focused on preaching the truths of the Christian gospel rather than spreading lies about rival religions. And for all his hobnobbing with presidents from Eisenhower on, he usually managed to stay above the political fray.
Franklin Graham, in comparison, is looking increasingly sounding like a garden variety political hack, carrying the holy water for the most unholy elements in American society.
The opinions expressed in this commentary are solely those of Stephen Prothero.