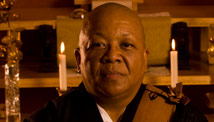 By Myokei Caine-Barrett, Special to CNN
Editor's note: Buddhist Myokei Caine-Barrett is the first woman of African-Japanese descent, and the only Western woman, to be ordained as a priest in the Nichiren Order. She is the resident priest and guiding teacher for the Myoken-ji Temple, home of the Nichiren Buddhist Sangha of Texas. She talks about her journey to Buddhism in "The Black Pulpit," a weekly series that explores faith in the black community. Next week: A view from the first Muslim Chaplain at Howard University.CNN's "Almighty Debt: A Black in America Special" premieres October 21.
My journey of faith began at age 11 when I began to study the Bible, inspired by Audrey Hepburn in "The Nun's Story" and enamored of Jeffrey Hunter in "King of Kings."
I yearned for the passion and devotion of faith, as expressed Hollywood-style, to deal with my isolation as a child of mixed ethnicity in a black and white world. I did not fit anywhere, and the path of faith seemed to offer the greatest sense of belonging.