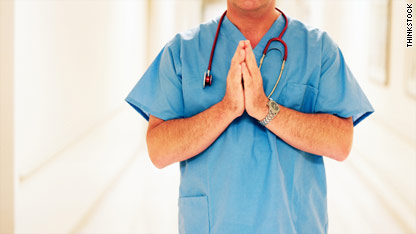 If you think your beliefs are the only ones that affect your health care, pay attention to this: A doctor's own religious practice can become quite relevant to patient care, especially when end-of-life issues come into play.
A new study finds that doctors who are not religious are more likely to take steps to help end a very sick patient's life, and to discuss these kinds of decisions, than doctors who are very religious.
The study, published in the Journal of Medical Ethics, surveyed more than 8,500 doctors in the United Kingdom across a wide range of specialties such as neurology, palliative care, and general practice.