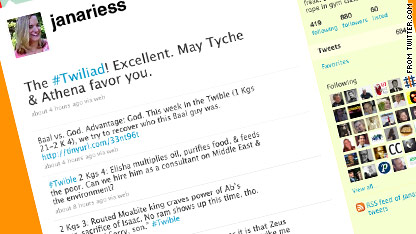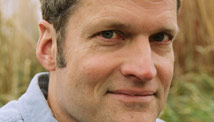 Editor's Note: Stephen Prothero, a Boston University religion scholar and author of "God is Not One: The Eight Rival Religions that Run the World," is a regular CNN Belief Blog contributor.
By Stephen Prothero, Special to CNN
When I saw the recent Belief Blog post on "Tweeting the Bible, one chapter at a time," I thought it was about my friend Jana Riess, who has been tweeting the Bible for close to a year now.
The post was actually about a relative newcomer to the scripture tweeting game: Chris Juby of the UK, who started his project (@biblesummary) earlier this month.
Riess, by contrast, has been going at it (@janariess) one chapter a day since October 4, 2009, which means she has finished the first ten biblical books—can you name them?—and is now slogging her way through 1 Kings—a few thousand years ahead of Juby (in biblical time).
In a phone call last week, she said she got the idea for her project after following my RN140 Twitter course (@sprothero), where I attempted to tweet each of the major religions in 140 characters or less.  "That eliminated my big complaint about Twitter," she told me. "I don't care what people had for breakfast."
Not long after that  she was in a hotel room reading the Bible when she realized she had never really read it cover to cover–even when she was in seminary. Promising to tweet it would be a way to announce publicly that she intended to read it through, and then to be held accountable by what she imagined would be only a handful of followers.
Tweeting the Bible might also make the book "more understandable and user friendly instead of long and difficult and full of complexity."
And so she began in the beginning:
Genesis 1: After 6 days creation, G totally wiped. Day off tomorrow. Key point: human beings v good. M & F in G's image.
As she proceeded, she had to make some unkind cuts, like forgetting about honoring your father–yes, I noticed–in this synopsis of the Ten Commandments:
Ex 20: G's Top 10. No gods, idols, blasphemy. Keep Sabbath holy & love Mom. Don't kill, cheat, steal, lie, or look @ Xmas catalogs.
There are a few other Twitter Bible projects, Riess told me, including TheFakeBible (@FakeBible), which proceeds verse by verse, often with more than one tweet per day, and has been known to use the f-word.
Riess (who does not use the f-word) would not admit to being miffed at having only a few hundred followers, to Juby's 11,000 and counting.
She did observe, however, that her translations were a bit more edgy and irreverent. (She lost some followers after referring in an earlier tweet to Abraham and Isaac "pimping out" their wives.)
Thus far Riess, who works part-time as an editor at Westminster John Know Press, is enjoying her project. She found it the Book of Numbers "very difficult," however, because it is "so dark."  "I had no idea how violent it would be," she said. "How do you write something that's supposed to be funny about a woman getting chopped up in a Cuisinart?"
So will she make it to the New Testament and the Book of Revelation?  "I hope so," she told me. "God hasn't struck me down yet."
The opinions expressed in this commentary are solely those of Stephen Prothero.