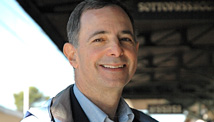 By Paul Moses, Special to CNN
Editor's note: Paul Moses is the author of "The Saint and the Sultan: The Crusades, Islam and Francis of Assisi's Mission of Peace." He is a professor of journalism at Brooklyn College and the CUNY Graduate School of Journalism.
The late Pope John Paul II has been described as the inspiration for a possible compromise to the dispute over the proposed Islamic center and mosque in the World Trade Center vicinity - that it be withdrawn and built elsewhere, much as the late pontiff had canceled plans for a convent near the Auschwitz concentration camp.
But if anyone would have appreciated the enormous symbolic value of having moderate Muslims create a space close to ground zero - as opposed to any other possible location in New York - with the aim of promoting inter-religious understanding, it was Pope John Paul II.