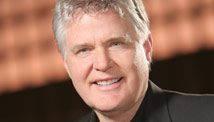 Editor's Note: Jim Garlow, Senior Pastor of Skyline Wesleyan Church in San Diego, California, is a radio commentator and author of Heaven and the Afterlife: What Happens When You Die?
By Jim Garlow, Special to CNN
What was the theme of Glenn Beck's Restoring Honor rally? As someone who attended the combined six hours of the Friday and Saturday events, the themes were obvious.
For starters, a call to decency reigned. Not some bland, gray, boring form of mundane living, but rather the centuries-old respectable virtues that gave us the America we now enjoy.
Sometime around 1960, morals jumped off the bridge without first attaching the bungee cord. The result is a nation with everything from devastated families, drug- and crime-infested communities to a hedonistically driven national debt.
So remedial was this message that a Jewish rabbi—who received multiple ovations from the overwhelmingly evangelical Friday night crowd—called for a return to "manners."
Equally basic to life was Beck's simple exhortation to "tell the truth." Every person should know by the first day of kindergarten. For Beck to need to call for something so basic is reflective of the moral anarchy and chaos from the failure of a generation to properly parent its own offspring.
The incessant removal of a moral base is killing us.
The blocking of reverence for God has taken away the understanding of objective truth—the Ten Commandments and acknowledging God in our schools for starters—freeing humankind to wallow in lawlessness.
Restoring Honor was about extolling virtue, the very traits that propelled this nation to rise from global obscurity to world leader. The verb-noun combination "extol virtue" is as desperately needed as it is quaint sounding.
One of the ways that virtue was extolled over the weekend was the spotlight on America's military.
Persons who had made enormous personal sacrifices—one young soldier with both hands missing, another whose face had been blown off in Vietnam, along with a mother whose military son had been killed—were among the celebrated heroes.
The bedrock of the day was a total reliance on and thankfulness to God. This is not—as liberals love to say—"wearing your religion on your sleeve." This is living one's faith from one's mind and heart. Above all, the crowd was there to honor God. And they did.
Despite the pre-rally discussions of Beck's Mormonism, the rally's litany of evangelical speakers gave it the Jesus-centeredness of a Billy Graham Crusade. All theological references were clearly evangelical and biblically based.
And Beck supercharged the crowd with radical confidence in individual human potential. Towards the culmination of Saturday's three-hour event, Beck cried out that "one person can change a nation."
Some might have thought he was referring to some yet unknown but emerging national leader. He was not. His next line: "and that person is you!"
Beck empowered people. His confidence in the American understanding of the human spirit was reminiscent of the writings of the Founding Fathers.
On the stage, African Americans were as predominant as whites. Native Americans were also included. Friday night's Kennedy Center rally, also evangelical in tone, had no white male pastors as speakers. The lineup of African Americans, Catholics, a rabbi and female speakers garnered about 30 standing ovations.
In macro tones, the tragedy in our culture is the incapacity of many to grasp that our current tensions are no longer merely "right vs. left" but more seriously "right vs. wrong."
Ripping up babies in the womb is a barbaric act. It is wrong. Destroying the definition of families so that children lack either a mommy or a daddy is narcissistic and just plain stupid.
Spending excessive amounts of money the nation does not have is economic suicide. Excessive taxation is oppression.
Robbing people of the cherished concept of "the consent of the governed" is nationally devastating. Smothering creativity and entrepreneurialism with bureaucracy is a denial of the longing for productivity in the human spirit, a violation of the image of God stamped deep within us.
America, by margins of 70 percent to 80 percent believe in the values that made us, whether it be in maintaining "under God" in the Pledge of Allegiance or "In God We Trust" on our coins. Americans have grown weary of the oligarchic cultural elite oppressing the masses.
To discerning persons, the rally was not about Glenn Beck. It was not about Sarah Palin. This rally was about freedom, honor, our American heritage, and sacrifice. And foundationally, it was about God.
The opinions expressed in this commentary are solely those of Jim Garlow.