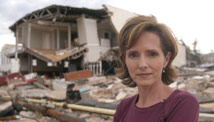 Editor's Note: Kathleen Koch is a Washington-based freelance journalist, author and speaker. Her new book, "Rising from Katrina," traces her Mississippi hometown's recovery from Hurricane Katrina and her experiences covering it. For 18 years, she was a CNN correspondent.
By Kathleen Koch, Special to CNN
Five years ago, when Hurricane Katrina was bearing down on New Orleans, I prayed. I prayed that the monster storm would veer east and spare the 1.3 million residents of the city and its surrounding parishes. I knew I was praying the hurricane right into my hometown, Bay St. Louis, Mississippi.
Katrina's eye roared onshore at the state line and then churned east over Mississippi. The sustained 125-mph winds and 30-plus-foot storm surge shredded the house where I'd grown up, my neighborhood, the town and most of the eighty-mile-long Mississippi Gulf Coast.

That first week, as I picked my way through the rubble and interviewed friends and neighbors, I was in shock. My brain wanted to reject what my eyes were seeing. But soon after, I got angry. Why did this happen? And why twice to such kind, hard-working people?
When I had moved to Bay St. Louis as a middle schooler, I'd been struck by the empty lots that dotted the beach. Hurricane Camille had flattened much of town in 1969, and many homes were still missing. Those who returned were confident that as long as they built above the 24-foot Camille surge line, they'd be safe.
But Katrina spared no one. And as I watched residents struggle first against the federal bureaucracy and then against many insurance companies, my anger and frustration grew. I couldn't understand how a loving God could let all this happen.
So for a long time, I gave up on God. I told myself my crazy schedule that kept me working most Sundays was to blame for my absence from church. But deep down, I knew better. I couldn't look at the suffering and destruction on the Gulf Coast and find anything to be thankful for.
Still, miraculously, people there were thankful. And I told their stories on CNN. Like Nikki and Patrick Cleveland who were swept out of a beachfront house yet survived by clinging to trees. Or Tommy Kidd. Twenty-seven feet of water surged through he and his wife's home on the bayou. Yet he spent weeks collecting supplies for family, friends and neighbors before even venturing out to see what he had left.
Residents reached out, helped one another and believed they would get through because that was what they always did. They didn't look too far ahead or back at what they'd lost. One day at a time. Just make it through one day.
And volunteers poured into the area by the thousands. Some came on their own, driving cars packed with donations. Others arrived by the busload, full of energy and determination to start setting things right.
It was inspiring, and it started to melt my anger. I began reflecting back on the religious statues throughout town that somehow survived the roaring winds and storm surge. One was just two hundred yards from a four-lane, two-mile-long bridge battered to bits by the hurricane. A small two-foot-tall cement statue of the Virgin Mary stood unbroken next to the crumbled remains of a brick rectory.
A friend who'd been in the debris removal business right after the hurricane said he and his workers saw that sort of thing every day. "It was pretty powerful. It shows you that there really is a God. There was no other explanation."
Signs of hope. Signs that as dire as things looked, residents were not alone.
I took account of my life and how it had changed because of the hurricane. I had reconnected to my hometown and the people I'd grown up with. I had built new friendships with so many who had come to help the Gulf Coast. I was stronger, wiser and more keenly aware of what mattered in life. And it wasn't the "stuff."
"It's just stuff" became a mantra in the region after the hurricane smashed homes and scattered belongings for miles.
People who lost everything found they still had plenty left to keep them going–family, friends, faith and community. They pulled together and in the process most found they had become better parents, better spouses, better citizens of their towns. They, as I, had been transformed by the monster hurricane.
Yes, at the fifth anniversary of Katrina things aren't back to normal and won't be for years. The oil spill not only dealt the fragile region an economic blow, but has created deep concern about when and if the waters and beaches will again be safe. But I have faith that those I know and love there will do what seems to be ingrained in their DNA–to overcome, persevere and always remember what matters.