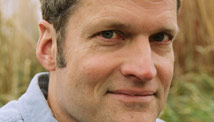 Editor's Note: Stephen Prothero, a Boston University religion scholar and author of "God is Not One: The Eight Rival Religions that Run the World," is a regular CNN Belief Blog contributor.
By Stephen Prothero, Special to CNN
In an interview on Monday with Fox13now in Salt Lake City, Utah Senator Orrin Hatch said he would be "the first to stand up" for the rights of Muslims to build an Islamic community center and mosque near ground zero. Well, he's not exactly the first, but I'll take it.
A few days ago I lamented the fact that so many prominent Mormons, including Democratic Majority Leader Harry Reid and Republican presidential hopeful Mitt Romney, had come out against the mosque.

As almost every Mormon knows, members of the Church of Jesus Christ of Latter-day Saints have been on the receiving end of more than their fair share of religious discrimination, including discrimination of the "don't build it here" kind.
The Mormon founder Joseph Smith Jr. was killed by an anti-Mormon mob in 1844, and one reason LDS Church members made their westward trek to Utah was because they were hounded out of New York, Illinois, and Missouri by people who thought "Mormon American" was an oxymoron.
Roughly a decade ago a bitter controversy arose in Massachusetts concerning a proposed Mormon temple. The site is literally in the neighborhood of Romney's family residence in Belmont, Massachusetts, and it was to serve a congregation that Romney himself led as Bishop from 1984 to 1986.
Local residents opposed just about everything about the temple, including its height and the customary Mormon spire with an angel on top. But the Mormons (and the Constitution) won and the temple was dedicated for use in 2000.
My point is that Anti-Mormonism is not just ancient history, which is why I have found the denunciation of the mosque by Reid and by Romney's surrogates so troubling. Ditto for that supposed paragon of American values, and self-appointed pastor to the nation, and Mormon Glenn Beck, who has referred to the Park51 project as an "Allah tells me to blow up America mosque."
But finally a leading Mormon politician has stepped up, much as Jewish leaders stepped up after the ADL committed seppuku on its own good name by coming out against the Islamic community center and mosque. So kudos to Orrin Hatch (who also called Islam a "great religion") for breaking ranks not only with his fellow Mormon leaders but also with his fellow Republicans, who have been leading the cynical anything-for-a-few-votes-in-November charge against the Park51 project, American values, and American law.
Speaking of American law, Hatch was a co-sponsor (with the late Massachusetts Senator Ted Kennedy) of the Religious Land Use and Institutionalized Persons Act (RLUIPA), a federal statute passed in 2000 to outlaw religious bias in zoning precisely for cases such as the Mormon temple in Belmont and the Islamic community center at ground zero.
So he knows what he is talking about. Too bad so few of his fellow legislators (on either side of the aisle) do. The bill passed both houses of Congress unanimously.
The opinions expressed in this commentary are solely those of Stephen Prothero.