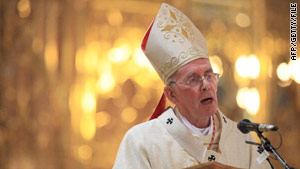 Editor's note: Watch CNN's interview with Cardinal Brady in a special report by Nic Robertson on "Connect the World" on CNN International at 9 p.m. London time/4 p.m. ET.
Months after the revelation that he helped cover up for one of Ireland's most notoriously abusive priests, the country's top Catholic churchman, Cardinal Sean Brady, says he has "moved on" and will not resign.
"I've moved on there, I think, and I got a lot of support in my decision," he told CNN in a rare interview.