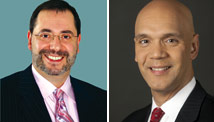 Editor's Note: The Rev. Luis Cortés is president of Esperanza USA. The Rev. Derrick Harkins is senior pastor of the Nineteenth Street Baptist Church in Washington, D.C.
By the Rev. Luis Cortés and the Rev. Derrick Harkins, Special to CNN
During the civil rights movement, religious leaders locked arms in solidarity and marched against the systemic sins of racism and oppression. In the face of Bull Connor's fire-hoses, diverse people of faith met the despair of segregation with hope for an America that lived up to its noblest creeds.
A new struggle for justice now unites African American and Hispanic clergy, who refuse to remain silent as a broken immigration system divides our communities and undermines our nation's values.
As pastors who minister in urban communities where African Americans and Hispanics share both common aspirations and challenges, we reject any claims of a "black-brown" divide over this contentious issue.
To combat this myth, we helped organize a first-of-its kind coalition to serve as a powerful witness that comprehensive immigration reform has broad support across racial and ethnic lines. Our coalition includes Esperanza for America, a national grassroots campaign to support passage of immigration reform, and clergy representing many of the largest African- American denominations – the National Baptist Convention, USA, the African Methodist Episcopal Church, and the Progressive National Baptist Convention.
Together we are recruiting clergy to conduct education programs that bring together African-American and Hispanic congregations, and engaging Members of Congress to make sure they understand we can't wait for immigration reform.
In a recent letter to President Obama, we make it clear that any effort to divide Hispanics and African Americans on this urgent moral issue will fail. But as Christian leaders, we must also search our own souls even as we speak truth to power. African- American and Hispanic churches located only blocks apart have not always worked together as partners in the pursuit of justice. Too often the barriers of language, culture and self-interest have separated us.
This is changing as our communities recognize that the fight for civil and human rights continues anew in an increasingly multicultural nation where many of our immigrant brothers and sisters are demonized as "aliens."
While our support for immigration reform is rooted in moral convictions, practical arguments are also persuasive. As lawmakers in several states introduce copycat legislation that mirrors Arizona's misguided law, churches and faith-based organizations are leading the call for a practical and humane response to a flawed immigration system.
Deporting nearly 12 million undocumented immigrants already in the country is unrealistic and separating parents from children is shameful. Border patrol has nearly doubled in size over the last five years. Migrants have responded by finding more remote and dangerous routes into the United States, leading to hundreds of deaths in the Arizona desert.
Securing our nation is essential, but an enforcement-only approach is shortsighted. We need leaders of vision and political courage who reject false choices. We can protect our borders and also uphold human dignity. We are a nation of laws, and also a nation of immigrants where Africans, Europeans, Asians and Hispanics enrich the American character. Contrary to ugly stereotypes, the vast majority of undocumented immigrants are not criminals. They are hard-working people who believe in the American dream and seek a better life for their families.
We do not support "amnesty." Those who have violated our immigration laws should plead guilty, pay fines and back taxes, learn English and go to the end of the line before given the opportunity to gain legal status – just as comprehensive reform would require. Immigration reform will bring immigrants out of the shadows, help keep families together and crack down on unscrupulous employers who hire and exploit immigrant labor.
Leveling the playing field will not just help immigrants, but also improve the prospects for workers of all backgrounds. In fact, a study by the Center for American Progress and the Immigration Policy Institute found that an earned legalization system would add $1.5 trillion to the economy over the next decade and generate billions in new tax revenues each year.
African Americans and Hispanics share a proud history of struggle against the forces of bigotry and injustice. Our churches and congregations will not be divided by those exploiting a complex challenge for simple political gain. We will not be deterred by those who counsel us to defer the dream of opportunity and fairness for another year or election cycle.
Together we continue the long march for an America that reflects our highest ideals, not our worst fears.
The opinions expressed in this commentary are solely those of the Rev. Luis Cortés and the Rev. Derrick Harkins.