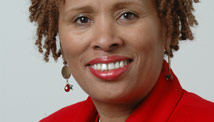 Editor's note: Dr. C. Vanessa White is assistant professor of spirituality and the director of the Augustus Tolton Pastoral Ministry Program at Catholic Theological Union in Chicago, Illinois. She is the co-editor of "Songs of Our Hearts and Meditations of Our Souls: Prayers for Black Catholics." Next week in the "Pulpit" series: Shaun King, a preacher known as the "Facebook" pastor, shares how social media is transforming his church. CNN's "Almighty Debt: A Black in America Special" premieres October 21.
By C. Vanessa White, Special to CNN
I come from a family with diverse religious traditions: Baptist, Methodist, Apostolic, Buddhist and nondenominational. My mother was a spiritual seeker, and when she became Catholic, I was baptized into the Catholic faith as a young child.
Growing up, I attended a parish with Irish, Polish and black Catholics, and observed that the spiritual gifts of black Catholics were often diminished. When it was suggested that we include a gospel song in the liturgy, we were told that was not Catholic. "Ave Maria" was sung, but not "Mary had a Baby," a Negro spiritual. I learned about St. Theresa the "Little Flower," but not St. Benedict the Black. A Kwanzaa table was a no-no.