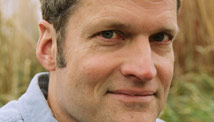 Editor's Note: Stephen Prothero, a Boston University religion scholar and author of "God is Not One: The Eight Rival Religions that Run the World," is a regular CNN Belief Blog contributor.
By Stephen Prothero, Special to CNN
Yesterday I was sitting on a pier on Cape Cod watching the summer drift away and talking with a friend about Islam. She told me something I have heard dozens of times before—that Muslims need to do a better job of denouncing the violence perpetrated in the name of their religion.
I told her that after 9/11, and after almost every act of violence perpetrated in the name of Islam, Muslims in the United States and around the world have lined up, individually and in groups, to denounce such violence in print, on television, and online. Unfortunately, as Daisy Khan of the controversial Park51 project in Lower Manhattan said in an August 25 conference call, "the voices of the moderate, mainstream majority Muslims have been drowned out by the actions of extremists."

I agree with my friend that Muslims of good will need to be ever vigilant in speaking out against those who would hijack their religion for the purposes of terror.  Moderate Christians, however, need to do the same.
Over the last few months, a gaggle of conservative politicians have lined up to denounce not only the proposed Islamic community center and mosque near ground zero but also Islam itself. Reasonable people can disagree about whether their incendiary rhetoric is motivating attacks on Islamic properties such as the recent arson at the site of a future mosque in Murfreesboro, Tennessee. Quite unlike the conciliatory language of President George W. Bush, however, who repeatedly stated during his presidency that Americans were at war with terrorism rather than Islam, this rhetoric has surely stoked rather than doused American/Islamic tensions.
Now comes the pastor, provocateur, Terry Jones and his plan to burn Qurans on September 11 at his Gainesville-based Dove World Outreach Center—a plan the U.S. commander in Afghanistan David Petraeus says "could endanger troops" and "the overall effort in Afghanistan" and NATO Secretary General Anders Fogh Rasmussen says is both counterproductive and "disrespectful."
Predictably, this provocation is drawing notice worldwide, including in Indonesia, the world's largest Muslim country, where thousands protested on Sunday outside the U.S. Embassy in Jakarta, and in Afghanistan, where 500 or so chanted "long live Islam" and "death to America" in Kabul on Monday.
The U.S. Embassy in Kabul responded to those protests by issuing a statement rejecting "acts of disrespect against the religion of Islam" and adding that "Americans from all religious and ethnic backgrounds reject the offensive initiative by this small group in Florida."
My question is whether the political provocateurs who gave us the Park51 controversy will join those Americans in rejecting "Burn a Koran Day." Or, to put it another way, where has all the sensitivity gone among those who have called for sensitivity in the blocks around ground zero? Will Sarah Palin grace us a tweet against this bonfire of the inanities? Will Newt Gingrich?
For at least a decade I have written that people inside each of the world's religions must deal with the demons in their midst. Christians need to reckon with how their beliefs and actions helped to contribute to the Holocaust. Muslims need to reckon with how their beliefs and actions helped to inspire 9/11. "The Nazis were not Christians" will not cut it.  Neither will "the terrorists were not Muslims."
But calls for moderates to denounce religiously inspired violence go both ways. If my friend on the pier yesterday was right to call for moderate Muslims to speak out against Islam-inspired violence surely it is reasonable to expect moderate Christians to speak out against provocations such as "Burn a Koran Day."
Happily, there are moderate Christians out there in the general public.  The National Association of Evangelicals has asked the tiny Florida church planning the event "to call it off in the name and love of Jesus Christ." But are there any moderate Christians left among the chattering conservatives in the Republican Party? Is it really that hard for Sarah Palin or Newt Gingrich to denounce the crankpot plans of a crankpot church whose core proclamation seems to be that "Islam is of the devil?"
As "International Burn a Koran Day" approaches, we will see. I am putting my best on an unholy silence.
The opinions expressed in this commentary are solely those of Stephen Prothero.