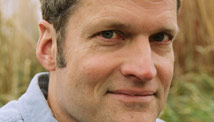 Editor's Note: Stephen Prothero, a Boston University religion scholar and author of "God is Not One: The Eight Rival Religions that Run the World," is a regular CNN Belief Blog contributor.
By Stephen Prothero, Special to CNN
In my book, "God is Not One: The Eight Rival Religions that Run the World—and Why Their Differences Matter," I underscore the differences between the world's religions. But the differences are significant—and underappreciated—inside these religions, too.
Muslims in Iran are almost all Shia. Muslims in Saudi Arabia are almost all Sunni. And Imam Feisal Abdul Rauf, the leader behind the Islamic community center and mosque near ground zero (pictured), is a Sufi. But what is a Sufi?
Sufism is sometimes discussed as if it were Islam's third denomination, alongside the Sunni and Shia traditions. But to be a Sufi is to stand in Islam's mystical tradition, and that stance can be taken up by Sunnis and Shias alike.
During a recent visit to Jerusalem, I spoke with a jewelry salesman who turned out to be a lifelong Sufi. When I asked him about the importance of the Five Pillars of Islam (the core practices that are said to constitute Islamic life), he shook his head "NO!" and insisted that real Islam could stand up perfectly straight without any of those Five Pillars.
Real Islam, he said (and by this he meant Sufism), is about experience, not Shariah (law). It is about a heart-and-soul connection between the individual believer and God—the sort of love that sets your whole being into dance.
The term Sufi comes from the word suf, which means wool. So Sufi literally means "wool wearer," which is to say someone who has opted for a simple life of contemplation and pious poverty along the lines of early Christian monastics and their scratchy wool garments.
This tradition, which emerged in the eighth century and was eventually institutionalized in hundreds - perhaps thousands - of different orders, is now known, however, more for its godliness than for its garb.
Like Jewish and Christian mystics, Sufis often stress the immanence rather than the transcendence of God. And while they are not as apolitical and pacific as William Dalrymple and other champions of Sufism contend, they do tend to focus more than many other Muslims on the spiritual side of religion.
In an effort to get a more scholarly take on Imam Feisal's Sufi tradition, I emailed Omid Safi, a professor of religious studies at the University of North Carolina, Chapel Hill, and the author of Memories of Muhammad: Why the Prophet Matters.
Prothero: So what in a nutshell is Sufism all about?
Safi: Sufism is the most prominent mystical tradition in Islam. Above all else, it aspires to have a face-to-face encounter with God. Rooted in the Quran and the experience of the Prophet Muhammad, Sufis often emphasize the transformative power of Divine love.
How do Sufis differ from other Muslims? Are there distinctive Sufi beliefs or practices?
All Muslims seek to pattern themselves after the "beautiful example" of the Prophet Muhammad. Sufis go one step farther, however, saying that if Muhammad ascended to meet God face-to-face, they too want to have a face-to-face encounter with the Divine. Sufis often place a great deal of emphasis on chanting God's name, and have a strong poetic and musical tradition.
How does one become a Sufi?  Are you born into the tradition or do you choose it?
There are multiple layers of involvement with the Sufi tradition. It is not a matter of birth, but one of deliberate and active involvement. At the generic level, there is an admiration for the teachings of a particular Sufi master. At the more advanced level, there is formal initiation into a particular Sufi lineage.
The 13th century Persian mystic Rumi is among the most widely read poets in the United States. How does he fit into Sufism?
Rumi is probably the most widely read and influential of all Muslim mystics. His masterpiece, the Masnavi, is frequently referred to as the "Quran in Persian," and may be second only to the Qur'an in terms of influence in many Muslim cultures from Iran and Turkey to South Asia.
Recognized in his own lifetime as "the offspring of the soul of Muhammad," Rumi is a great example of Sufis who emphasize passionate and transformative love - simultaneously human and divine - as the most powerful way of transforming one's ego, and coming closer to the Divine.
Finally, as a historian of Islam can you say something about Cordoba, Spain? There has been a lot of talk recently about what the Cordoba Initiative and the Cordoba House (now Park51) signify. From the perspective of Islamic history, what does Cordoba mean?
Cordoba was a proud center of learning and interreligious Convivencia ("coexistence") in Islamic and European history. In pre-modern Europe, Cordoba was one of the only places where Muslims, Jews and Christians could live side-by-side, freely practicing their faiths and interacting meaningfully in philosophy, literature, science and politics.
The fact that Cordoba featured a Muslim ruling elite, at a time European Christian leaders were persecuting Muslims and Jews says a great deal about Islam's inherent pluralism. A Christian Saxon nun, Hroswitha, labeled Cordoba "Ornament of the World." The Cordoba Initiative is evoking that legacy in speaking of today's New York as the New Cordoba.
The opinions expressed in this commentary are solely those of Stephen Prothero.