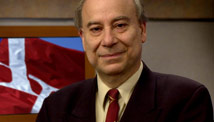 Editor's note: Akbar Ahmed is professor and Ibn Khaldun Chair of Islamic Studies at American University in Washington and the former high commissioner from Pakistan to the United Kingdom. He is author of "Journey Into America: The Challenge of Islam" (Brookings Press). He appears tonight at 9 ET on "Larry King Live."
By Akbar Ahmed, Special to CNN
Both Pastor Terry Jones and Imam Feisal Abdul Rauf broke their strange silence, and we got a glimpse into the state of their minds Tuesday - Jones on CNN's "AC360°" with Anderson Cooper and Feisal in a New York Times op-ed piece.
In both venues, I was struck by how the two men appeared to be disconnected from the storms they have created, unaware of the sociological laws of cause and effect.