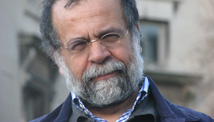 Editor's note: Hamid Dabashi is the author of "Iran: A People Interrupted." He is the Hagop Kevorkian professor of Iranian studies and comparative literature at Columbia University in New York. Dabashi's book "Shi'ism: A Religion of Protest" is being published by Harvard University Press in February.
By Hamid Dabashi, Special to CNN
"We are proceeding with the community center, Cordoba House. More important, we are doing so with the support of the downtown community, government at all levels and leaders from across the religious spectrum, who will be our partners. I am convinced that it is the right thing to do for many reasons."
The confident and reassuring words of Feisal Abdul Rauf, the chairman of the Cordoba Initiative and the imam of the Farah mosque in Lower Manhattan in his New York Times op-ed piece Tuesday, just four days shy of the ninth anniversary of the horrors of 9/11, speak of a vision always dreamt of - and occasionally delivered - in this country.