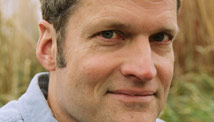 Editor's Note: Stephen Prothero, a Boston University religion scholar and author of "God is Not One: The Eight Rival Religions that Run the World," is a regular CNN Belief Blog contributor.
By Stephen Prothero, Special to CNN
I have never met the man behind the Islamic community center near ground zero, so my first chance to take the measure of Imam Feisal Abdul Rauf came last night when he was interviewed by Soledad O'Brien on "Larry King Live."
A few weeks ago, the imam's wife, Daisy Khan, told me during a conference call that moving the center was "off the table for now." Last night Imam Feisal initially indicated that he would not be moved either.

His main reason for pressing ahead with the "Muslim Y," as he called it, was "national security"—a possible explosion of anger in the Muslim world. "I am extremely concerned about sensitivity," he explained. "But I also have a responsibility. If we move from that location, the story will be that the radicals have taken over the discourse. The headlines in the Muslim world will be that Islam is under attack."
When pressed, however, Imam Rauf said that "nothing is off the table." He also said that if he had known then what he knows now about how divisive this project would become he would have acted differently.  "If I knew this . . . would cause this kind of pain, I wouldn't have done it" he said, adding, "My life has been devoted to peacemaking."
In terms of news, the bottom line is that Imam Feisal seems to be searching for a compromise that will turn down the temperature of the controversy while not giving the upper hand to bigots at home and radicals in the Muslim world.
But the interview wasn't really about whether this project would go forward at the Park51 site. It was about taking the measure of the man.
Martin Luther King Jr. once said that "the ultimate measure of a man is not where he stands in moments of comfort and convenience, but where he stands at times of challenge and controversy." By that measure Imam Rauf, in my view, acquitted himself well.
Supporters and opponents of the project will of course parse his words differently, but any reasonable person can see that he came across as a man both of peace and of principle.
Repeatedly he referred to his Jewish and Christian neighbors, insisting that the clash of civilizations is not between Muslims and non-Muslims but "between moderates on all sides of all the faith traditions and the radicals on all sides."
And though he invoked peace on more than a dozen occasions, he rightly recognized that there are wrongs that must be addressed forcefully—that lasting peace is never gained by capitulating to prejudice or injustice.
The most revealing moment in this revealing interview came during a discussion about whether the neighborhood in question is sacred ground. This topic has of course been well covered: it is sacred because the ashes of the dead that drifted over its streets have and never will be recovered; yet it is not so sacred because there are strip clubs and sex shops there.
As O'Brien pressed him to admit the sacredness of the site, Imam Rauf spoke up forcefully, more forcefully than he did in the rest of the interview. And this time he spoke not of peace but of justice. And while he addressed O'Brien personally, he also challenged his viewers:
We've got to be fair. You can't say a place that has strip joints is sacred ground. We've got to be just. We've got to speak the truth. We've got to have justice for everybody. We're a country of justice for all, not justice for non-Muslims only or some groups and not for others. This is what America's all about, Soledad.
If you are looking for the face of moderate Islam, this is it. And if you cannot see moderate Islam in his face, you are not looking.
That said, I would not describe Imam Feisal as a moderate.
In Indonesia, the country with the world's largest Muslim population, Muslims are divided into three camps: a large group of moderates and much smaller groups of fundamentalists and progressives. Moderates and progressives distinguish themselves from fundamentalists by favoring the separation of mosque and state, and by enthusiastically affirming democracy. Progressives distinguish themselves from moderates by speaking out more forcefully for religious pluralism and by drawing more generously on the thinking of intellectuals from Europe and the United States.
On this score, at least, Imam Feisal is a progressive. Repeatedly he spoke of building bridges across religious divides, and he closed the interview not by quoting the Quran or invoking Shariah but by invoking the Sermon on the Mount: "Jesus Christ said blessed are the peacemakers, for they shall be called the children of God."
And if you are hoping for something better–a representative of Islam who agrees with Franklin Graham about Muhammad or with Newt Gingrich about the Quran–well, it is the real world we are inhabiting. And in the real world, this is about as good as it gets.
If Americans cannot make peace with this man, we cannot make peace with Islam.
The opinions expressed in this commentary are solely those of Stephen Prothero.