Editor's Note: CNN's Mary Snow is filing a story tonight on the Situation Room about St. Nicholas Church, the only church destroyed at ground zero on 9/11. She filed this report from New York. You can watch Mary's piece on the Situation Room today on CNN between 5pm-7pm EST and tell us what you think.
Here in New York City, there's been much focus on the Cordoba House that's near ground zero, but did you know there was a church destroyed on 9/11 that has yet to be rebuilt?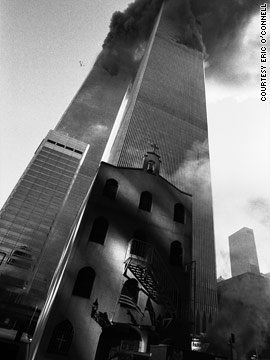 St Nicholas is a Greek Orthodox Church. It was a tiny three-story church that sat on a lot 22 feet by 50 feet in the shadow of the south tower at the World Trade Center site. When the tower fell it crushed the church building. Rebuilding efforts have gone nowhere.  The church has been negotiating with the Port Authority of New York and New Jersey for years, but both sides accuse the other of walking away from negotiations.
The Port Authority says, in essence, that a window has passed for the church to rebuild at a nearby location with tens of millions of dollars of public money because construction at a security center at ground zero couldn't wait. Now, if the church wants to rebuild at its original location, it'll have to wait until 2013, when construction is complete.
What do you think? Should a third party get involved to find a solution?