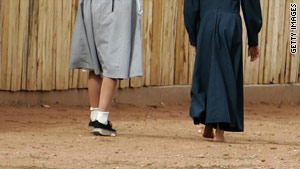 Editor's note: Diane Noble is the award-winning author of "The Sister Wife," the first book in her new historical polygamy fiction series "Brides of Gabriel."

By Diane Noble, Special to CNN
"What religion are you?"
Last week a young woman sent me an e-mail that opened with this question. She went on to say that she had picked up my book, "The Sister Wife," at Wal-Mart, thumbed through it, and then put it down again. Though the story intrigued her, she didn't want to buy the book until she knew if I was writing from a point of view that wouldn't offend her religious beliefs.
That same evening at a book signing, a high school teacher told me a senior honors student had spotted my book in her handbag and asked about it. When the teacher gave her a brief synopsis, the girl looked distraught. She said that her religion should not be written about by an outsider. Furthermore, her teacher should not be reading this book. "There are things in it you shouldn't know," the girl said.