Two weeks ago, 26-year-old Pastor Kyle Bonenberger threw down the gauntlet with his flock. September 12th, 2010 marked City Church in Anahiem's one year anniversary.
Bonenberger told his church, if attendance doubled and 200 people showed up to their "birthday bash," he and another parishioner would get tattoos of the church's logo. And he invited others to join them. "It's my way of showing my commitment to Christ and from that comes my commitment to give back to the community," the young pastor said.

"I've done altar calls and nothing happened. This is the most successful thing we've ever done," he said. Ten parishioners signed up to get inked.
The church is loosely affiliated with the Reformed Church in America.  It has about 85 regular attenders and for the past year has met at a local punk rock club, Chain Reaction. "The owners let us meet there for free because nothing else was going on Sunday mornings. For us it's great because it comes fully loaded with lights and a sound system. It breaks a barrier for people who would never walk into a church. It breaks that wall down," he said.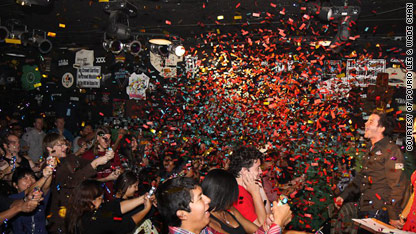 On Sunday, congregants and visitors trickled in to the punk rock club. The service was about 75% complete when the attendance ticked from 199 to 200.
"It's still a little bit sore," Bonenberger said on Tuesday about his freshly tattooed forearm.  He and five others were able to get their tattoos on Sunday before the tattoo artist had to leave.  The other six congregants are getting appointments to get their tattoos.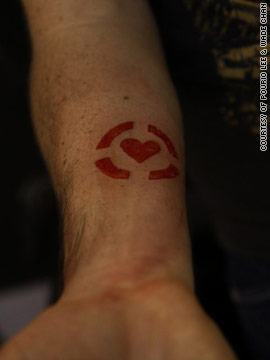 The logo means a lot to Bonenberger because a friend came up with the design for the church's website about a year ago.  "It's a ghosted cross with a heart in the middle."  He said when he first laid eyes on it he knew he had to get it as a tattoo.
Editor's Note: You can see more from the event and follow Bonenberger on twitter @kylesteven and @lovehopecity. While you're at it, follow us for all the latest @CNNBelief.