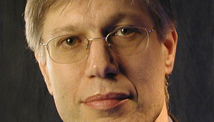 Editor's note: Yaron Brook is president of the Ayn Rand Center for Individual Rights and a columnist at Forbes.com; Onkar Ghate is a senior fellow at the center. Brook is one of the speakers at The Economist's "Ideas Economy: Human Potential" conference in New York.
Consider how just two fundamental ideas have ushered in the modern world. Rewind a scant 600 years, and modern science doesn't yet exist.
Men and women live and die in squalor and filth, largely ignorant of the germs that ravage their bodies and of the natural laws that govern the universe, instead imploring an alleged supernatural force to help them navigate this vale of tears.
But thanks to minds such as Galileo, Sir Isaac Newton, Louis Pasteur and Charles Darwin, this is not how we face the world today. They taught us our method of knowing: careful, mathematically precise observation, step-by-step inference and generalization, and systematic, evidence-based theory building.

Read the full story