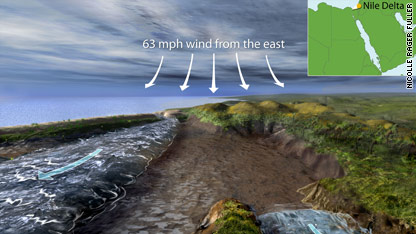 An illustration based on new research shows how wind could have moved and
split waters from two ancient basins.
The parting of the waters described in the book of Exodus that enabled Moses and the Israelites to escape the pharaoh's army is possible, computer simulations run by researchers at the National Center for Atmospheric Research and the University of Colorado at Boulder show.
To test the theory that the biblical account may have depicted actual events, the researchers studied maps of the region, archaeological records and satellite measurements to find a topographical feature where such an event might have been possible. They settled on an area south of the Mediterranean Sea where some oceanographers say a branch of the Nile River drained into what was called the Lake of Tanis, a coastal lagoon 3,000 years ago.