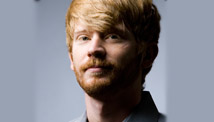 Editor's Note: Brett McCracken is author of the recently published Hipster Christianity: When Church and Cool Collide. He works as managing editor for Biola University's Biola Magazine and writes regularly for Christianity Today and Relevant. He comments on movies, media, and popular culture at his blog, The Search.
By Brett McCracken, Special to CNN

I grew up within conservative evangelical Christianity, and I'm thankful I did. But throughout my youth - and indeed, even now, at 27 - there are things about it that made me bristle. Things like televangelism, angry political picketing, boycotts, horrible Christian movies, copycat Christian music, anti-intellectualism, hyper-politicized discourse, "Left Behind" hysteria about the "end times," and "hell houses" (don't ask).
For many of my peers who grew up within this peculiar milieu, it was enough to sour them on Christianity entirely (lamentable, but understandable). But for many others, it simply urged them to rediscover the heart of the faith and explore Christian identity in terms that felt more pertinent to the world around them.

This impulse among younger generations of Christians has led to, among other things, a subculture which we might call "Christian hipsters." They are Christians who seek to cultivate a strong aesthetic sensibility and intellectual rigor, things that were largely put on the back burner in the church of their youth. They are sooner found at Radiohead or Arcade Fire concerts than at Christian music shows, prefer contemporary art galleries to Thomas Kinkade showrooms, and exercise Christian "fellowship" through conversations about Sartre over fair-trade coffee or a round of craft beers.
Christian hipsters tend to serve scotch at their small-group Bible studies, and are largely supportive of such things (mostly good things, I might add) as locally grown produce, thrift stores, fixed-gear bikes, Jon Stewart, traveling abroad, Wes Anderson films, Wendell Berry books, and tobacco (in all forms except chewing). Many of them are also very image-conscious (in the way that most hipsters are), carefully selecting the right pair of Toms shoes, styling the "tangled/tussled/you'd-never think this cost $50" hairdo, and perfecting the paradoxical "fashionable-but-not-store-bought" wardrobe.
Not all of these Christian hipsters are necessarily trying to be hip, which is an important point. Your average Christian hipster is simply attempting to authentically explore their identity as a Christ-follower who is also an embodied, expressive, creative human being.
But as earnest and understandable as this quest is, there are still things to be cautious about. How does being "cool" or "hipster" fit with what Christianity calls us to? How does the self-focused pride of "cool" fit with the self-giving, other-focused humility of the Christian life? What do we do about the alienating, off-putting character of hipsterdom, which signifies elitism and tends to exclude (even if unintentionally) all those not "in-the-know"? How does this work in a church setting, which of all places should be a site of inclusion, love, and community unshackled by the burden of cliques and "I'm hipper than you" strata? And what of the values of vice and rebellion so seemingly central to the hipster way of life?
These and other questions about the collision of church and cool are addressed in my book, which I wrote as an attempt to document this "Christian hipster" moment and understand the ideas and circumstances feeding into it, but also to raise questions about the very nature of "cool" and how it corresponds to the Christian life.
Is "Hipster Christianity" a contradiction? Are "cool" and "Christian" fated to forever be in tension? Maybe. But maybe not.
There are many positive things that Christian hipsters bring to the faith. They are largely driven by a curiosity about the world and appreciation for culture, for example. They see creative and academic pursuits as God-given and God-honoring in themselves, recognizing that "secular" things - Bob Dylan albums, Rothko paintings, Steinbeck novels, a good Pinot Noir - can be edifying for the Christian life, simply because they are good, true, and beautiful.
I'm also encouraged by the impulse of Christian hipsters toward issues of justice, service, and social welfare. They're pushing the church to get outside of its fortress walls and get its hands dirty in service of others. For them, the gospel isn't just something to proclaim from a pulpit; it's also something to live out, in love and service, for "the least of these" in a needy world.
This might mean spending a semester of service in places like Uganda or Haiti, or it might mean starting up a grassroots ministry to meet the needs of a local community - as some friends of mine in Los Angeles did with "Sock the Homeless," handing out clean new socks to the vast homeless population on L.A.'s Skid Row every Sunday morning at dawn.
Christian hipsters are motivated by a genuine desire to follow Christ and to reconcile their faith in his gospel with what they know, love, and deem important in the world. As much as "hipster Christianity" is subject to serious questions about the hazards inherent in any generational uprising, it's also a prescriptive, potentially significant moment in the ongoing story of church-culture relations.
What does it mean to be a Christian in this world? How "set apart" and different must we be? Christian hipsters are having this conversation - or rather, they're living it. And the rest of us should probably pay attention.
The opinions expressed in this commentary are solely those of Brett McCracken.