Editor's Note: CNN's Martin Savidge filed this reporter's notebook from New Birth Missionary Baptist Church in Atlanta, Georgia. The video report above is the piece Martin and his team filed.  Below is a look at what it took to get the story.
5:30 a.m.: Usually when you show up at a news story at this hour the only people you see are other media. Not so at the New Birth Missionary Baptist Church. Parishioners were already there sitting in their cars waiting for the church doors to open 2 1/2 hours before any service. Supporters of embattled bishop Eddie Long had risen before the sun.
6:30 a.m.: Like the last scene of Field of Dreams, an unbroken stream of headlights winds it's way from the highway to the church parking lot.  As they pass our live shot position some shout "Go home" others blast gospel music, most stare stoically ahead, and a few are in tears.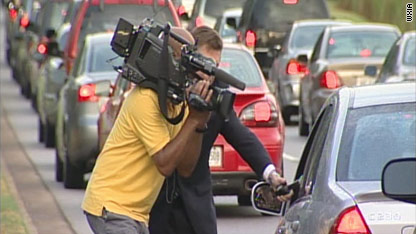 7 a.m.: The heavens open. I know this because the rain pours down my back as I stand on camera talking to anchor Drew Griffin back in the studio. As soon as I stop, so does the rain. Hmmm.
8:30 a.m.: Traffic outside the church is still gridlocked even though the first service has been under way for half an hour. Many people simply park on the side of the road and begin walking. We join them. Occasionally as we pass those still waiting to drive in, I ask what it is they hope to hear. The most frequent answer takes two words: "The truth."
8:45 a.m.: The closer you come to the stadium-size church, the louder things get. Each time the doors open, a wave of up-tempo music and human voices washes over you.
Once inside we're given name tags and escorted to "the chapel," which anywhere else would be called an auditorium. We are told we can't leave the chapel even to use to use the restroom.
At the front of the room a giant TV is flanked by two huge illuminated crosses. As soon as I sit down, I see Long walk on screen bringing the congregation cheering to its feet.
The following are my scribbled notes…
9 a.m.: Numerous ovations. Long dressed in beige, solemn looking. Congregation on its feet. Music builds Long pumps fist then signals for silence.
"'Good morning New Birth. Good morning to all our other guests!'"
Someone shouts, "Love you Dad!"
Long quotes the Bible. Reading from an iPad.
9:21 a.m.: Long's first reference to accusations. "I've been accused, I am under attack."
After the service we wait for a promised news conference. About 45 journalists are in the chapel/auditorium. Long and entourage step on stage, attorney opens by saying, "As you already know, Bishop Long will only read a statement and not take any questions." It's the first time any of us have head this.
Two minutes later: The bishop and company exit behind a curtain.
10:30 a.m. We get to use the bathroom.