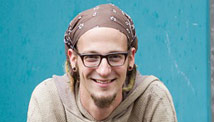 Editor's Note: Shane Claiborne is an author and activist and an architect of Philadelphia's Simple Way community. His books include "Jesus for President" and the bestselling "Irresistible Revolution."
By Shane Claiborne, Special to CNN
Last week there were gunshots again. This time, four people were hit with bullets. One was 3 years old.
I don't live in Afghanistan or Iraq, but in North Philadelphia, Pennsylvania, a place where 5-year-olds know how to distinguish the sound of fireworks from the pops of a gunfire.
Nearly every night this week there have been gunshots. And it's been only about six months since we heard gunshots on our street one cold February night and looked out the window to see a 19-year-old kid stumbling down the block with blood pouring out of his body. We held him, prayed with him and watched him die.
Martin Luther King, Jr. remembered the good Samaritan story in the Bible and said in effect (my paraphrase): We are all called to be the good Samaritan and lift our injured neighbor out of the ditch… but after you lift so many people out of the ditch, you start to say, maybe the whole road to Jericho needs to be re-imagined.
For over a decade in North Philly, my faith community has been actively teaching kids nonviolence rooted in the truth that it is more courageous to love our enemies than to kill them (a truth I have learned from Jesus).
And we have been trying to create jobs so that kids on corners have other options than the drug economy. But there comes a point where we start to ask deeper questions, like "where are they getting the guns?"
As we dug into that question, we began to discover that there are a handful of irresponsible gun shops that illegal guns get tracked back to.
I'll admit, my first instinct was not to try and push for legislation and laws and regulation. That is why I was excited to learn about a "Code of Conduct" drafted by the Mayors Against Illegal Guns. These are 10 steps of ethical business that several hundred mayors agreed would cut down gun violence if gun shop owners would commit to them.
We began to approach gun shop owners with an opportunity to take this step of integrity. Eventually, hundreds of folks in Philadelphia and beyond joined a movement to ask gun shop owners to sign onto this code.
Some did. In fact, the largest gun dealer in the world, Wal-Mart, signed onto the code. But some did not.
Many religious leaders in Philadelphia felt they were left with no choice but to peacefully put our bodies in the way of the trafficking of guns onto the streets, and we began holding prayer vigils outside gun shops.
In one case we had a little revival outside one of the most notorious gun shops in Philadelphia, Colosimo's on Spring Garden Street.
About a dozen Christian clergy and other people of conscience were arrested as they did a sit-in (or a "pray-in"). In a showcase trial, they were found not guilty, and in the ensuing days the gun shop owner pleaded guilty of trafficking guns, his license was revoked, and the shop was closed down.
So miracles can happen. But I'm a strong believer that so often we wait on God, and God is waiting on us. We throw our hands in the air and say, "God why don't you do something"… and God is saying, "I did do something … I made you."
So we have begun that same conversation with the owner of the gun shop around the corner from my house in North Philadelphia, The Shooter Shop. It was listed in a 2004 survey by Americans for Gun Safety as one of worst gun shops in America because over 200 guns used in violent crimes were tracked back to it.
Meanwhile, as we wait for the owner to agree to the code or another miracle to shut this one down, 3-year-olds are getting hit with stray bullets.  Like I said, my first instinct is not legislation but to hope that gun shop owners like Mr. Haney at the Shooter Shop will let their conscience help clean up the Jericho road.
But I do wonder if there are laws that can help, sort of like guard rails on the highway.  To use a hunting analogy, maybe there is no silver bullet, but there may be a silver buckshot. We need responsible teenagers, and we also need responsible gun shop owners and responsible laws.
One of the pieces of legislation that seems like a no-brainer is sometimes called the "One Handgun a Month" law, which would not get in the way of the Second Amendment right to bear arms but simply says maybe 12 guns a year are enough.
It rests on the premise that if folks are buying more than a dozen guns a year, they are probably doing something other than giving them away as Christmas presents.
The sad thing is that powerful lobbyists are against some of these sensible laws, which is why folks can still buy 50 guns at a time - some of them undoubtedly landing on the streets and killing 19-year-old kids like Papito, the kid we held back in February as he died.
We can do better. We can re-imagine together the road to Jericho. Everyone has a role to play, whether it be a Christian pacifist like myself or a responsible hunter like the "Hunters Against Gun Violence" who have been working for an end to violence on the streets.
I saw a recent study that unveiled the terrible state of our Jericho road here in the U.S. when it comes to gun violence.
In 2006, guns killed:
• 27 in Australia
• 59 in England and Wales
• 60 in Spain
• 190 in Canada
• 194 in Germany
• and 10,177 in the United States
Firearms are the second leading cause of death (after motor accidents) for people under the age of 20. Eight American children under the age of 20 are killed by guns every day.
The kids of our world know we can do better and are dying for us to do better. A few days ago, a new family moved from California into our neighborhood with a 4-year-old.
As they passed by the gun shop here in my neighborhood, the child asked, "Why is there a gun shop here when there aren't any animals to shoot?"
A beautiful question. May that question haunt us and inspire us to transform the Jericho road, or Allegheny Avenue in Philadelphia, so that our streets look a little more like the world we all want to live in.
The opinions expressed in this commentary are solely those of Shane Claiborne.