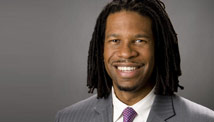 By LZ Granderson, Special to CNN
Editor's note: LZ Granderson is a senior writer and columnist for ESPN The Magazine and ESPN.com, and has contributed to ESPN's Sports Center, Outside the Lines and First Take. He is a 2010 nominee and the 2009 winner of the Gay & Lesbian Alliance Against Defamation (GLAAD) award for online journalism, and a 2010 and 2008 honoree of the National Lesbian and Gay Journalists Association (NLGJA) for column writing.
Long before Focus on the Family, the 700 Club or even the Bible, there was a basic spiritual hunger: A hunger to know where we came from, a hunger to know what happens when we leave, a hunger to know if there is a God.
And somewhere along the line, that hunger was spun into religion, and soon the desire to find God became mutated by the desire to protect a particular belief system about God. Religion became monetized, politicized and militarized as the hunger to know the meaning of life slowly was replaced by rules by which we are to live our lives.