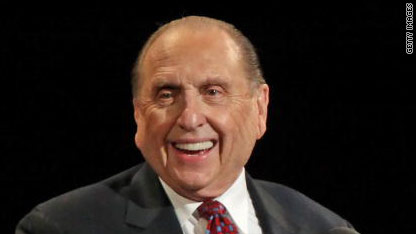 CNN's Kelly Marshall Smoot filed this report:
The Church of Jesus Christ of Latter-day Saints, better known as the Mormon church, started its semi-annual conference this weekend by announcing it will build five new temples around the world.
The church will build the new temples in Hartford, Connecticut; Indianapolis, Indiana; Tijuana, Mexico; Urdaneta, Philippines; and Lisbon, Portugal, President Thomas S. Monson (pictured) said in his opening address at the 180th semi-annual conference on Saturday.
There are currently 134 LDS temples in operation around the world and 23 more that have been announced or are under construction, including the five new temples announced Saturday.
The church has seen a boom in new temples since the late 1990s, with then-church President Gordon B. Hinckley starting the push.
The five new temples will include the church's first in Portugal, its third in the Philippines, and its 13th in Mexico.
Temples are not buildings where Sunday worship takes place, as in most Christian traditions.
Instead, the temples are places "where Church members make formal promises and commitments to God," like marriages and where ceremonies like baptism are performed by proxy for those who have died, according to church literature.
Temples are closed to the general public but the church holds open houses after one is completed and invites local communities to tour them prior to dedication ceremonies.