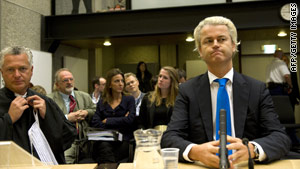 Far-right Dutch politician Geert Wilders went on trial in the Netherlands on Monday, charged with inciting discrimination and hatred over a controversial film he made about Islam.
Wilders' film "Fitna," which he released online in March 2008 to international outcry, features disturbing images of terrorist acts superimposed over verses from the Quran in an apparent attempt to paint Islam as a threat to Western society.
Comments Wilders made in a variety of media between 2006 and 2008 form part of the case against him.