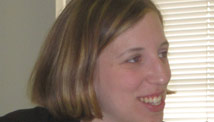 Editor's Note: Rabbi Laura Baum leads OurJewishCommunity.org, the world's largest online synagogue, and is a rabbi at Congregation Beth Adam in Cincinnati, Ohio.
By Laura Baum, Special to CNN
With The Social Network opening over the weekend, I can't help but marvel at how the Facebook phenomenon and online tools have changed our relationships and our sense of community in a few short years.
Hundreds of millions use Facebook to keep up with friends, people follow their elected representatives on Twitter, and long-distance relationships aren't quite as hard thanks to video chat.
We maintain so many of our personal and professional relationships online. So why would our religious involvement be any different?
I don't see why it should be, and neither do the thousands of participants in our online congregation, OurJewishCommunity.org. Since 2008, we have been building a virtual congregation by streaming video of sermons, supporting each other with social media like Facebook and connecting face-to-face over Skype.
As our lives get busier and more transient, making the trek to the same brick-and-mortar synagogue for services can present a barrier to involvement in the Jewish community.
By holding services on the web and engaging in one-on-one consultations online, we're knocking these barriers down and enabling people to connect with Judaism and with each other no matter where their busy lives may take them.
Using computers and mobile devices, people connect to us (their rabbis), each other, and Judaism year-round.
They may join us for High Holiday services streamed from our sister congregation, Congregation Beth Adam in Cincinnati, even downloading a PDF of the liturgy to read and singing along.
They may listen to our podcasts or read a blog and then engage in conversation with others around the world on Facebook. They may participate in our Passover seder, which is set up as a webinar so that people can read sections of the Passover story aloud.
Last Passover, someone from Paris read one page, someone from New York the next, and people from 32 states and 10 other countries sang Passover songs together across continents.
There's a persistent myth that community is something that only happens in person, that relationships and memberships must be defined in geographic terms. The reality is that relationships built and maintained online, using tools like Facebook, Twitter and Skype, are increasingly common and can even be stronger than physical connections.
At our online Shabbat services, regulars use the Facebook chat feature to welcome new people to services. If someone mentions one week on the chat that they have a relative who is ill, often people will inquire about them the next week.
Families that are themselves split up, with members living in different cities, can log on and attend services together despite the distance. After Rosh Hashanah, we got an e-mail from a daughter in Washington, DC who sat on the phone with her mother in Florida as they each watched the service on their computers.
"It was an amazing moment for us," she wrote. "I know neither of us would have words of appreciation grand enough to capture what we felt."
I have recently been humbled by my nomination to win the Jewish Community Hero Award, which comes with a $25,000 grant from the Jewish Federations of North America. Not only would the grant enable us to grow our congregation, but the award from this leading organization would shine a spotlight on the impact we've been able to have in people's lives all around the world.
Online communities are no longer vague concepts of the future. My hope is that OurJewishCommunity.org allows people who would not otherwise connect to each other or to Judaism to be part of a contemporary religious community that's in synch with how they live their lives.
The opinions expressed in this commentary are solely those of Laura Baum.