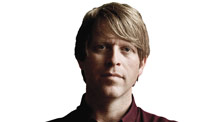 Editor's Note: Gabe Lyons is author of The Next Christians: The Good News About the End of Christian America (Doubleday) and founder of the Q learning community.
By Gabe Lyons, Special to CNN

Every data point I've seen indicates that Christianity in America is in sharp decline. According to recent surveys, one of the fastest growing religious categories in America is "non-religious." While some megachurches are flourishing in suburban Christian enclaves, the number of self-identifying Christians has fallen 10 points over as many years. Each year, the Christian church experiences a net loss in attendees and the waning political influence of the movement is now more than apparent.
What has driven this shift? According to Michael Spencer of the Christian Science Monitor, the answer is two-fold. First, the church's rabid pursuit of "relevance" and "pragmatism" has produced in many churches a shallow vacuity. Second, he says, we have become too closely identified with political partisanship and the American culture war. Such attitudes among young non-believers were confirmed by the national study commissioned for Unchristian, a book I co-authored a few years ago.
Some Christians are understandably frustrated by the demise of "Christian America," and many of them have exerted considerable energy into slowing the decline. Among old guard evangelicals, for example, there are many who still preach of moral decline and proudly wear the battle armor of cultural war. But young Christians, it turns out, are far more optimistic about what the future might hold for the two-thousand-year-old faith.
Over the last several years, I've conducted hundreds of focus groups, interviews, and gatherings of young Christian leaders. I have tracked and compiled a list of their common characteristics—from the desire to create good cultural artifacts to a strong sense of calling—and these leaders' optimistic outlook on the future has steamrolled me.
There is my friend, Scot, in New York City whose organization's is leading the way in giving clean water to those who lack it. There is Phileena in Nebraska who believes the church can be reconciled with the poor when we roll up our sleeves and serve alongside them. And Gary in Washington D.C. whose vision for how the world ought to be put sex trafficking on the map for many Americans and policy-makers.
When Katrina ravaged the coast, there was much cause for discouragement. But Jon, a leader in the fashion industry, launched an initiative to mobilize volunteers to build homes and serve the aching gulf coast communities. I could share many more stories, but suffice to say these are not isolated examples.
Interestingly, these Christians have shaken off both reasons Spencer gives for Christian decline. Rather than strive for relevance or some amorphous "cool" factor, they simply set out to accomplish good for the sake of the Christian Gospel. The only thing pragmatic about them is the way they try to solve pressing problems.
Additionally, they are far less interested in partisan politics. We are seeing more diversity in the ways young Christians define themselves politically, if they choose to do so at all. For example, when given the choice between "traditionalist/conservative," "centrist," or "modernist/progressive," almost all choose "centrist."  In order to solve problems and make progress, young Christians are finding they often have to reach across party lines and work issue by issue.
As I've studied the next Christians, it's apparent that they have a particular way of thinking, being, and doing that is radically different from previous generations. They are purposeful in choosing their careers, optimistic about changing social problems, and eager to infuse the world with beauty and grace.
"Christian America" as we've known it is no doubt coming to an abrupt close, and the jury is out on how the next generation of Christians will shape public perceptions or solve pressing global concerns. Only time will tell, but if you ask them, they'd tell you the future is bright.
The opinions expressed in this commentary are solely those of Gabe Lyons.