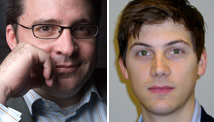 Editor's Note: Dr. Robert P. Jones is the CEO and Daniel Cox is the Director of Research for Public Religion Research Institute, a nonprofit, nonpartisan organization conducting research at the intersection of religion, values, and public life.
By Robert P. Jones and Daniel Cox, Special to CNN
Much has been made of the emergence of the Tea Party movement on the American political scene in the past two years. The group has flexed its muscles in a few important Republican primary campaigns, ousting relatively popular incumbents.
But how much is actually known about the Americans who are part of the Tea Party? Much of the media coverage has followed the Tea Party movement's own narrative, which describes it as a grassroots group of libertarian-leaning and independent-minded Americans who have grown disgusted with Washington - a group not beholden to either party, willing to buck conventional politics to get things done.
Our 2010 American Values Survey, released today, turns much of this received wisdom on its head, while confirming a few salient facts.
As expected, Americans who consider themselves part of the Tea Party movement are significantly more non-Hispanic white than the general population (80 percent vs. 69 percent of Americans overall).
They are conservative, strong supporters of small government. Eighty percent have a favorable view of Sarah Palin, and 57 percent say they trust Fox News most to give them accurate information about politics and current events.
But there are four persistent myths out there that just aren't supported by the numbers. Here they are:
Myth #1: The Tea Party movement is distinct from previous conservative movements like the Christian Right.
Fact: Among Americans who consider themselves a part of the Tea Party movement, nearly half (47 percent) say they consider themselves to be part of the religious right or conservative Christian movement.
Among Christians identifying with the Tea Party movement, 57 percent identify with the conservative Christian movement. Americans who identify with the Tea Party movement are more likely than the general population to be white Christians (70 percent vs. 57 percent), with an outsized presence of white evangelical Protestants. Forty-six percent report attending religious services at least once per week, significantly above the 36 percent in the general population.
Myth #2: The Tea Party movement represents a large portion of the U.S. population, rivaling the size of previous conservative movements like the Christian right.
Fact: Americans who identify with the Tea Party movement make up just 11 percent of the adult population - half the size of the current conservative Christian movement (22 percent).
Myth #3: The Tea Party movement is largely a political libertarian group that believes in maximum freedom for individuals.
Fact: Americans who identify with the Tea Party movement are mostly social conservatives, not libertarians on social issues. Nearly two-thirds (63 percent) say abortion should be illegal in all or most cases, and less than 1-in-5 (18 percent) support allowing gay and lesbian couples to marry.
Myth #4: The Tea Party movement is an independent political force, whose members do not have close ties to either political party.
Fact: Americans who identify with the Tea Party movement are largely Republican partisans. More than 3-in-4 (76 percent) identify with or lean towards the Republican Party. More than 8-in-10 (82 percent) say they are voting for or leaning toward Republican candidates in their districts. And nearly three-quarters of this group report usually supporting Republican candidates.
This much is now clear: a majority of Americans who identify with the Tea Party are old-style Christian conservatives in new clothing: they now quote the Declaration of Independence more than the Bible (although some do both), and attend rallies led by Glenn Beck instead of Pat Robertson.
The Tea Party has certainly made an impact in the 2010 election, but in thinking about who they are and what they stand for, it's a mistake to consider them a wholly new and original force. For anyone who understands the facts, it's impossible to escape the feeling that we've been to this party before.
The opinions expressed in this commentary are solely those of Robert P. Jones and Daniel Cox.
The third biennial American Values Survey was conducted by Public Religion Research Institute and funded by the Ford Foundation, with additional support from the Nathan Cummings Foundation. Results are based on telephone interviews conducted among a national random sample of 3,013 adults (age 18 and over) between September 1 and September 14, 2010.