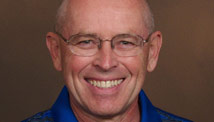 Editor's Note: Wayne Grudem, research professor of theology and biblical studies at Phoenix Seminary om Phoenix, Arizona, is author of Politics According to the Bible: A Comprehensive Resource for Understanding Modern Political Issues in Light of Scripture.
By Wayne Grudem, Special to CNN
Are the deaths of our soldiers in Iraq and Afghanistan a sign of God's judgment on America?
So says the Rev. Fred Phelps, who goes to military funerals with signs saying "God hates you" and "Thank God for dead soldiers." But Albert Snyder, the father of a dead marine, sued Phelps for causing him emotional distress by picketing at the 2006 funeral of his son, Marine Matthew Snyder.
The case came before the Supreme Court yesterday.
As a Christian professor of theology and biblical studies, I wish I could tell Fred Phelps that he is violating Jesus' teaching that "Whatever you wish that others would do to you, do also to them" (Matthew 7:12).
Would Phelps want protesters to disrupt his son or daughter's funeral? Surely not.
I remember how the funeral of a young family member overwhelmed me with a deeper grief and a deeper experience of God's comfort in sorrow than I have ever felt in my life. For anyone to intrude on such a sacred time with angry protests is to violate our need for privacy when we long to be alone with family and friends and God.
I support the laws that now exist in 40 states placing restrictions on such protests anywhere near funerals. These laws rightly protect the dignity and privacy of such a solemn event.
Fred Phelps is also wrong because he misrepresents the "good news" of the Gospel of Christ.
The most famous verse in the Bible does not begin, "For God so hated the world, that he gave his only Son," but "For God so loved the world, that he gave his only Son" (John 3:16).
Jesus did not win followers by saying, "I hate you, please follow me." Rather, he said: "Come to me, all who labor and are heavy laden, and I will give you rest" (Matthew 11:28).
Yes, God certainly calls people to repent of their sins so that they can find forgiveness in Christ, but I am grieved to see that Phelps' message, speaking only of God's hatred, simply turns people away from a personal relationship with Christ.
Is it a sign of God's judgment, as Pastor Phelps claims, when U.S. soldiers die in the wars in Iraq and Afghanistan? I don't think so.
These wars are essentially wars to defend our nation from terrorism, and as such they are "just wars." Therefore a soldier who fights in these wars to protect our nation is what the apostle Paul calls "God's servant for your good" (Romans 13:4).
In carrying a weapon to defeat a nation's enemies, a soldier "does not bear the sword in vain" but he is "a servant of God . . . who carries out God's wrath on the wrongdoer" (Romans 13:4).
So Fred Phelps has it all wrong. The Bible sees Matthew Snyder as "God's servant" for our good, and his death in that just cause demonstrated his great love for the country he served.
Jesus said, "Greater love has no one than this, that someone lay down his life for his friends" (John 15:13). Christians should mourn Matthew Snyder's death and honor such servants of God in the military, not gloat over their deaths as Fred Phelps did in his reprehensible protest.
But yesterday's Supreme Court case raises another question. Should Albert Snyder be able to sue Pastor Phelps for millions of dollars in damages because of the "emotional distress" that Phelps caused by his protest –– from about 1000 feet away - at Matthew Snyder's funeral?
If successful, I fear that Snyder's lawsuit would set a dangerous precedent whereby anyone who felt offended by a distasteful message could silence unpopular speech through massive fines imposed by the courts. Freedom of speech would be chilled.
The Bible also values human liberty: "Proclaim liberty throughout the land to all its inhabitants," says Leviticus 25:10, a verse that was important to our Founding Fathers.
They embedded freedom of speech in the First Amendment as one of our essential liberties: "Congress shall make no law . . . abridging the freedom of speech." And freedom of speech must protect unpopular and distasteful speech or it is no freedom at all.
The laws that protect Fred Phelps' right to hold up reprehensible signs also protect the free speech of all other religions, whether we think them right or wrong. And they protect my right to speak about Jesus Christ in public without fear of fines or prison, as in other nations.
Our laws should protect funerals from unwelcome intrusions, but they should also protect the freedom of misguided people to proclaim wrongful ideas at a reasonable distance, without fear of being silenced by lawsuits from those who feel offended.
The opinions expressed in this commentary are solely those of Wayne Grudem.