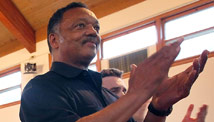 Editor's note: The Rev. Jesse L. Jackson Sr. is president and founder of the Rainbow PUSH Coalition. He began his theological studies at the Chicago Theological Seminary and deferred his studies when he began working full-time in the Civil Rights movement with Dr. Martin Luther King Jr. Rev. Jackson received his Master of Divinity degree in 2000. Next week: Rev. DeForest "Buster" Soaries Jr. writes about his campaign to eliminate debt as senior pastor of First Baptist Church of Lincoln Gardens in Somerset, New Jersey. He is featured in CNN's "Almighty Debt: A Black in America Special" which premieres October 21.
By Rev. Jesse L. Jackson Sr., Special to CNN
My faith tradition has always been inextricably bound with the tradition of the civil rights movement. The blood, sweat and tears of "the movement" have run through my life; they touched and entangled me with an indelible spirit of never giving up, always trying to serve.
Through the good and hard times, I lean on my faith to help me traverse the twists and turns of life.