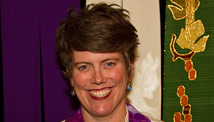 Editor's Note: The Rev. Rebecca Voelkel is the Faith Work Director of the National Gay and Lesbian Task Force.
By Rev. Rebecca Voelkel , Special to CNN
Before he committed suicide, a high school friend of mine wrote pages and pages in his journal about his turmoil and struggle with his church's teaching that he, as a gay man, was sick, sinful and an abomination. Finally, it was simply too much for his 15-year-old soul to endure.
His experience has been writ large in recent weeks as we've seen a national spate of suicides caused by bullying - in school and church.
We've seen brutal attacks on gay men in New York City, while New York Republican gubernatorial candidate Carl Paladino verbally attacked the lesbian, gay, bisexual and transgender (LGBT) community with divisive, hateful remarks. Threats to LGBT people have become an epidemic.
As a pastor who claims the life and ministry of Jesus as her model, I need to say that this is simply unacceptable. Preaching hate from our pulpits, in our politics, or to our pupils is never acceptable. It literally endangers lives. And the life and ministry of Jesus always stands against that which hates, hurts or destroys.
Last weekend, at the National Gay and Lesbian Task Force's Believe Out Loud Power Summit in Orlando, Fla., more than 300 Christian leaders gathered to stand against this kind of violence and to proclaim the extravagant welcome and inclusive justice of the gospel.
Through worship, Bible study and teaching, participants affirmed a vision - rooted in Jesus' life and ministry - of a church whose primary mission is proclaiming God's love for all people, and a practicing justice that is specific, particular and concrete. Participants prepared themselves for action within their churches and society. This includes:
• Creating a church that ordains all who have a call and a commitment to ministry.
• Building a church in which all the sacraments are for all the baptized.
• Embodying a church that celebrates love — in all its forms — including in blessing the marriages of same-sex couples.
• Being a church that advocates tirelessly for the human and civil rights of all people — including for housing, employment, health care, immigration and marriage equality.
We strive for these goals because Jesus calls us to enter into real people's lives and show God's love in real ways. That can literally save lives.
About a year ago, a United Methodist pastor in Florida made the courageous decision to proclaim God's specific and concrete love for lesbian, gay, bisexual and transgender people. And he got a lot of negative pushback. But he persisted, because he knew this persistent love is what he is called by God to do.
Last week, a young man from his congregation who had left for college called and asked him for a meeting. When they finally sat down, the young man said to him, "I am a gay man and I'm alive today because of you." That is the power of the life-saving gospel of Christ.
The opinions expressed in this commentary are solely those of Rebecca Voelkel.