Editor's Note: CNN Belief Blog Co-Editor Eric Marrapodi files this report from Washington, DC.
Brothers Christopher and Peter Hitchens squared off Tuesday in a debate over whether civilization can survive without God. Christopher, the older of the two, is a renowned atheist thinker and author. Peter, the lesser known of the two, is a practicing Christian and also a well-regarded author.
Christopher Hitchens is going through a very public battle with cancer, a subject that came up often during the debate. Michael Cromartie from the Ethics and Public Policy Center, moderated the debate and mentioned Christopher, who lives in the District of Columbia, was attending in between doctor appointments. Peter Hitchens had flown in from England specifically for the lunchtime debate.
Christopher Hitchens arrived with a white straw Panama hat. Beneath the hat he has no hair, lost from cancer treatments. Though noticeably thinner, Hitchens did not seem to suffer any intellectual consequences from his treatment.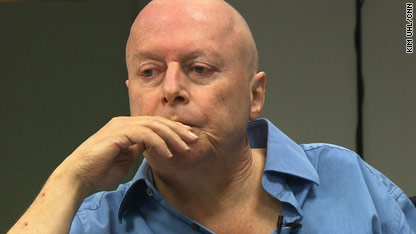 He argued civilization could survive without God and in many cases is surviving without God.
"There used to be a word which could be used unironically," he said. "People meant what they said when they said the word Christendom. There was a Christian world. Partly evolved, partly carved out by the sword, partly defended by the sword, giving way and expanding at times. But it was a meaningful name for a community of belief and value that endured for many, many centuries. It had many splendors to its name, but it's all gone now."
He said that today, in "huge parts of what we might call the industrialized modern world, tens of millions of people live in a post-religious society. It's hard to argue that they lead conspicuously less civilized lives than their predecessor generations."
He added, "I don't think it's really true to say that we live less civilized a life than those of our predecessors, who believed there was a genuine religious authority who spoke with power."
To further his point he added examples from his own life of interacting with people of faith.
"If you go around the provincial halls and public theaters as I do, whenever I can, and engage in belief and the believers you'll find to an extraordinary extent an ethical humanism with a vague spiritual content. It's extremely commonplace."
He specifically pointed to two American examples: Reform Judaism and self-described American "cafeteria Catholics" who pick and choose aspects of their faith they find appealing. That, he argued, proved God, and to a larger extent organized religion, are unnecessary to continuing civilization.
His brother Peter took the opposite side. He was quick to clarify later in the event he was arguing from the perspective of Christianity and not from the perspective of all religions.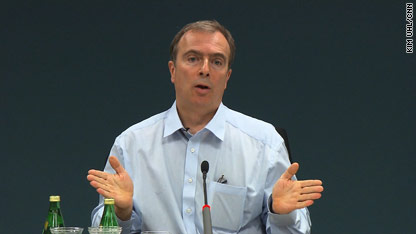 In Peter Hitchens' remarks he described his time as a journalist covering the fall of Mogadishu and the crumbling of his boyhood neighborhood in England to roving thugs. He said both examples showed a massive decline of civilization, and he said the civilization we see today could disappear.
"The behavior of human beings towards one another has sunk to levels not far from the Stone Age," he said.
In addressing his specific boyhood neighborhood, he asked, "How has this decline come about in civilization?"
"Well I think it has come about, a least partly, and I'm not a single-cause type of person, but at least partly there is no longer in the hearts of the English people the restraints of the Christian religion that used to prevent this type of behavior. I think it would be completely idle to image the two things are not related."
He continued and drew a parallel to his argument with American and British society. "The extraordinary combination which you in this country and I in mine used to enjoy, and may for some time continue, of liberty and order, seem to me to only occur where people take into their hearts the very, very, powerful messages of self-restraint without mutual advantage, which is central to the Christian religion."
While the two were on opposite ends of the spectrum when it came to the role and place of God in civilization, they did find unique common ground on Christopher Hitchens' cancer.
During the question-and-answer session, NPR Religion Correspondent Barbara Bradley Hagerty asked Christopher about the prayers of support he had received from Christians.
Hitchens responded, "Obviously expressions of solidarity are welcome and very touching to me. And whatever form they take."
But he continued, "I do resent, always have resented, the thought it should in some way be assumed now that you [with a potentially fatal illness] may be terrified, or that is to say, miserable. Or as it might be depressed. Surely now it would be the ideal time to abandon the principles of a lifetime. I've always thought this to be a rather repulsive approach."
His brother Peter jumped in right after in a show of support and said, "I also think it would be quite grotesque to imagine someone would have to get cancer to see the merits of religion. It's just an absurd idea. I don't know why anyone imagines it should be certain."
The event was put on by the Pew Forum on Religion and Public Life. It was billed as a conversation between the brothers and the press. As a result, no winner of the debate was announced.