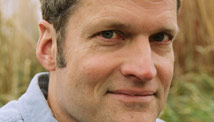 Editor's Note: Stephen Prothero, a Boston University religion scholar and author of "God is Not One: The Eight Rival Religions that Run the World," is a regular CNN Belief Blog contributor.
By Stephen Prothero, Special to CNN
Spiritual autobiography is one of the classic genres in both western civilization (think Augustine's "Confessions") and American life (think "The Autobiography of Malcolm X").
But once given the license to record for posterity their sins and salvations these tales of woe and wonder seem to go on and on. (Swami Yogananda's "The Autobiography of a Yogi" runs to 520 pages, and that's without the bonus CD.)
"God in America," the PBS mini-series that debuted Monday night (with me on screen, now and again), focuses on religion in public life but includes a series of personal spiritual journeys - from Anne Hutchinson's rebel Puritanism to Abraham Lincoln's Providence-soaked vexations to Martin Luther King's neo-Orthodoxy on the march.
Its web site includes a feature called "Faithbook," in which "viewers like you" are encouraged to share their "personal spiritual journeys" by answering a series of prompts, such as "How do you imagine God?" and "I believe . . ."
Now come my friends at killingthebuddha.com, a web site "for people made anxious by churches" and, presumably, by overwrought autobiographies as well.
Responding to PBS's "Faithbook" initiative (which should not be confused, by the way, with the college students' section of the "On Faith" web site, also called "Faithbook"), KTB's editors have put out a call for even more abbreviated spiritual autobiographies.
Eschewing "even those monstrous 140-character tweets," "Six-Word Journey" challenges the religious and the irreligious alike to distill their spiritual journeys into six words or less. And the submissions are already pouring in.
In keeping with the irreverent spirit of the site, whose tag lines read (among other things), "god with a grain of salt" and "paved with good intentions," some of the six-word stories are exit tales:
From "Chris Wonders" : "Was Catholic, asked questions, now free."
Others, however, are stories of unexpected conversions:
From "Scott": "Wanted free pizza; got Jesus instead."
Or stories of settling in and making do:
From "Gordon Haber": "My Judaism: Chinese food and guilt."
Or tales of wandering and return:
From "Michelle T":  "Meandered off path. Now UCC minister."
I am loving this new genre, so I hope the submissions continue to roll in, and not just from the living. I am already imagining, for example, how the Buddha might handle this assignment. How about . . .
Left palace, kids, family. Sat. Ahh!
The opinions expressed in this commentary are solely those of Stephen Prothero.