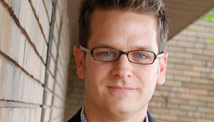 Editor's Note: Brian Mucci serves in leadership at Mars Hill Bible Church in Grandville, Michigan and is on the board of  20 Liters.
By Brian Mucci, Special to CNN
Dirty water kills more people than all forms of violence, including war.
Nine hundred million people lack access to clean water.
That's one out of every eight people.
I am part of the "seven out of eight."  You probably are, too.
Is it truly possible for the seven of us to own the magnitude of these statistics? At what point are we reading these figures, but no longer internalizing their significance? Is it possible at times that the statistics actually immobilize us?
Over the last decade, our community - Mars Hill Bible Church - has discovered two things: Relationship makes global issues personal. And out of relationship we are compelled to act.
When you hear a number like "one out of eight" and you happen to know the "one," you do something.
Anything. It is about relationship.
In 2004, our community began financially supporting HIV/AIDS programming in Rwanda. We also invested significant time and resources in building relationships with the local staff, leaders and recipients.
We spent several years just listening to our new friends.
And what we discovered were the "ones" who lacked access to clean water.
These are people we now know by name - like Jean, Dorosela and Veroniza.
We discovered that 99 percent of the roughly 35,000 people in the Masaka region of Rwanda lack access to running water. Seventy one percent have access only to water from a dirty pond or river.
We discovered that women walk up to two hours daily to fill up a 20-liter jerrycan with dirty water. A yellow jerrycan is what tens of millions of people use to collect, store and transport water. When filled, it weighs 44 pounds.
We discovered that the average Rwandan only uses 5 liters of water a day. The average American uses 575 liters of clean water every day, about 29 jerrycans.
Starting in 2006, volunteer engineers from Mars Hill researched the problem of dirty water and began implementing solutions that include slow-sand filters and rainwater harvest systems.
We identified local products and supply chains for the materials necessary to build water systems that support the local economy.
We've trained local Rwandans to implement the project, creating local capacity and ownership of their future.
We implemented the project alongside a local World Relief child health project to leverage the work of both programs on behalf of the community.
And we worked with World Relief to ensure local oversight and ongoing support of the Rwandan Water Team to avoid duplicating unnecessary administrative overhead costs.
Today, there is a team of Rwandans installing and maintaining water filters, as there will be tomorrow and the next day.
It is about people. Water is no longer a global issue for Mars Hill. It has become our story.
In 2007, a 7-year-old girl at Mars Hill realized there are children who cannot go to their sink and turn on the faucet when they are thirsty. She hosted a "Walk For Water" instead of a birthday party. Instead of bringing her presents, her friends raised money for water. In April, she was one of 750 people who walked for water and raised over $73,000 dollars for Masaka.
An engineer and his wife have made seven trips to Rwanda since 2006 to provide training and evaluate progress.
Three artists from Mars Hill entered an art competition called ArtPrize to raise awareness of this issue of clean water. They created a 20 foot by 16 foot piece of art displayed at the Gerald Ford Presidential Museum's reflecting pool that was voted among the top 25 of over 1,700 entries.
An ocean away, a mother of three orphans in Rwanda began leading the local Anglican church because there was no one else. She now pastors 200 people.
Her church has a rainwater cistern and she is able to provide clean water to the village and even sell excess water. She uses the proceeds to pay for books, supplies and uniforms so local children can attend school, for a $2 annual fee that allows local families to have health insurance.
It is personal. I still don't know what to do about 900 million people, but we have a pretty good idea about 35,000.
20 Liters emerged out of our relationship with the people of Masaka, for the people of Masaka.
20 Liters is the embodiment of people from all walks of life - volunteers in Rwanda, Grand Rapids, or anywhere doing what they can to help the "one."
For us this isn't a passing interest. 20 Liters is a demonstration that we are serious about caring for people in effective and sustainable ways. It is an announcement about the most basic of needs, clean water, and the simple solutions that exist.
And we pray it is a voice for the "one" - the "one" who often isn't heard.
The opinions expressed in this commentary are solely those of Brian Mucci.