As miners were being pulled from Chile's San Jose mine Wednesday, most were wearing tan T-shirts over their coveralls. The Chilean government told reporters the green coveralls were designed to help absorb the sweat as they ascended to the top.
But Wes Little, a CNN editor/producer in Atlanta, wondered why the miners were wearing the T-shirt over their coveralls. He noticed a logo on the T-shirt's left sleeve for the Jesus Film Project.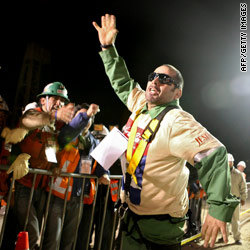 Here's what we found:
The Jesus Film Project is a ministry of Campus Crusade for Christ International, the massive Orlando, Florida-based evangelical ministry.
The Jesus Film Project tells us they have translated the film into 1,105 languages and that it has been seen in every country. You can watch or listen to over a 1,000 of the translations here.
The main goal of TJFP's ministry is to create and distribute effective media in every language, says Berry Fiess, the group's director of field information services.
Seventeen days into the mine accident, CCCI country director for Chile, Christian Maureira, started contacting public officials to see if they could send the miners a copy of the film. Fiess said Maureira was able to reach a daughter and a brother of miner Jose Henriquez.
Through that family contact, the group was able to send an MP3 audio version of the Jesus film and an MP3 audio version of the New Testament in Spanish to Henriquez down in the mine.
The Jesus film explains that the New Testament tells how Jesus is laid in a tomb-like cave after his crucifixion. Three days later, Jesus is said to have risen from the dead. In the Jesus film, women come to the tomb and find the stone that blocked the entrance has been rolled away, the cave empty.
It is unclear if the miners saw the resurrection story as a parallel for their hoped-for rescue, but Jose Henriquez passed along a letter to CCCI's Maureira from inside the mine. Fiess shared the English translation with CNN:
Thank you for this tremendous blessing for me and my coworkers. It will be good for our spiritual edification. I am fine because Christ lives in me.

We have prayer services at 12 noon and 6 pm.
"At the end of the letter," Fiess said, "(Henriquez) said goodbye with Psalm 95:4, which says, 'In His hand are the depths of the earth, and the mountain peaks belong to Him.'"
A few days later, Henriquez asked Maureira to get them special T-shirts.
"The T-shirts were a gift from Campus Crusade for Christ Chile," Fiess said. "In the front you can read, 'Gracias Senor' - 'Thank you Lord.'"
And on the back, Psalm 95:4.
"Apparently, all the miners liked them," Fiess said. "It kind of solidified them."