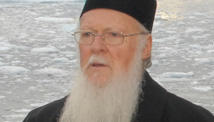 Editor's note: His All Holiness Ecumenical Patriarch Bartholomew, spiritual leader of the world's 300 million Orthodox Christians, is 270th successor of St. Andrew the apostle who founded the 2,000-year-old church of Constantinople. His work for environmental protection has earned him the title "Green Patriarch." He was named by Time magazine as one of the world's most influential people and has been honored with the U.S. Congressional Gold Medal. The author of "Encountering the Mystery" and "In the World, Yet Not of the World," he is being honored October 19 by the interfaith organization The Temple of Understanding.
By Ecumenical Patriarch Bartholomew, Special to CNN
Last October, the Ecumenical Patriarchate convened an international, interdisciplinary and interfaith symposium in New Orleans on the Mississippi River, the eighth in a series of high-level conferences exploring the impact of our lifestyle and consumption on our planet's major bodies of water.
Similar symposia have met in the Aegean and Black Seas, in the Adriatic and Baltic Seas, along the Danube and Amazon Rivers, and on the Arctic.
At first glance, it may appear strange for a religious institution concerned with "sacred" values to be so profoundly involved in "worldly" issues. After all, what does preserving the planet have to do with saving the soul?