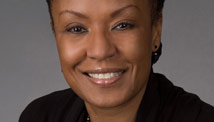 Editor's note: Leah Ward Sears was the youngest person and first woman to be appointed as the chief justice of the Georgia Supreme Court, and she is the first African-American woman to be a chief justice of a state's highest court. She retired from the court last year after 17 years and became a partner at the Atlanta office of Schiff Hardin LLP, where she heads the national appellate practice team. She also is on the board of directors of the Institute for American Values.
By Leah Ward Sears, Special to CNN
Ninety-eight new e-mails? I always check my inbox at least once a day when I'm away from the office, and it's usually teeming with new entries. But this was ridiculous. Something was up.
Looking back, I was grateful to be halfway across the world from my Atlanta home in Muscat, the capital of the tiny country of Oman, when those e-mails came in. It gave me some time to digest the news that I was among the finalists to replace Justice John Paul Stevens, a man whose distinguished service on the U.S. Supreme Court began when I was in college contemplating a career in law.
I had been nervous when I first arrived in Oman, given that a sultan rules this Arab country where few women hold positions of power. But my audiences couldn't have been more attentive or gracious. I was there as a retired American judge, giving a series of lectures to students and dignitaries about values inherent in our way of life. I was discussing core values that many of us take for granted and that many of us have worked ceaselessly to achieve - justice, the rule of law, individual freedom, equal rights; values that we are extremely lucky to have in this country.