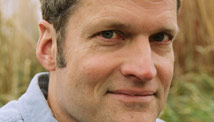 Editor's Note: Stephen Prothero, a Boston University religion scholar and author of "God is Not One: The Eight Rival Religions that Run the World," is a regular CNN Belief Blog contributor.
By Stephen Prothero, Special to CNN
It's time for our politicians to take the religious literacy quiz.
In a debate on Tuesday with Democrat Chris Coons, Republican Senate candidate from Delaware Christine O'Donnell seemed to be learning, in real time and reluctantly, that the First Amendment prohibits the establishment of religion.
As Coons was arguing against the teaching of creationism in the public schools on the grounds that the First Amendment mandates the disestablishment of religion, O'Donnell said, "The First Amendment does? Let me just clarify: You're telling me that the separation of church and state is found in the First Amendment?"
Coons, who seemed surprised by the question, responded by quoting chapter and verse:  "Congress shall make no law respecting an establishment of religion." To which O'Donnell, channeling Homer Simpson, asked, "That's in the First Amendment?"
As the author of Religious Literacy and adviser to the recent Pew Forum U.S. Religious Knowledge Survey, each of which demonstrated the ignorance of Americans about most things religious, I am not surprised that candidates for the U.S. Senate seem as surprised to learn about the Bill of Rights as I am by the latest plot turns in "Glee." (Emma? With John Stamos? Really?)
In fact, in a quiz I gave Boston University students a few years ago, only 41 percent were able to name the free exercise clause, only 23 percent the establishment clause.
And in the recent Pew Forum religious literacy survey, American adults demonstrated that they had about as much of a grip on what the Supreme Court has said about religious establishment as does O'Donnell. Only 36 percent knew that public schools could offer comparative religion courses and only 23 percent knew that public school teachers could read from the Bible as an example of literature.
A few years ago, as I was traveling around the country arguing for religious studies courses in the public schools, I challenged journalists to start asking political candidates basic questions about religion. I don't care whether Mitt Romney is a Mormon, I said, but I do care whether he knows which religion predominates in Indonesia, and in India.
I also said that, if politicians are going to invoke Christianity and the Bible to support their positions on abortion and immigration and stem-cell research, then voters have the right to know whether they know anything about that tradition and that scripture.
Far less controversial than that stance is this: voters have a right to know whether candidates for the U.S. Congress have even a passing acquaintance with the Constitution.
"That's in the First Amendment?" She Who Would Be Senator asked. Yes it is, O'Donnell, yes it is.
The opinions expressed in this commentary are solely those of Stephen Prothero.