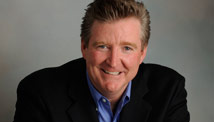 Editor's Note: Jim Daly is president of Focus on the Family and author of Stronger: Trading Brokenness for Unbreakable Strength (David C. Cook, 2010).
By Jim Daly, Special to CNN
Bullies are, and always have been, a sad reality of life. They are also, courtesy of a handful of tragic news stories in recent months, major headline-generators right now. In the wake of the highly publicized suicides of some young gays outed or taunted by bullies, those who pick on people they perceive as "weird" or "weak" have rightfully come under fire. But so has the Christian faith, and there's nothing right about that.
It has been suggested by some that Christianity itself is to blame for these tragedies - and that is its own separate tragedy. The train of thought goes like this: Churches and organizations like the one I lead, which believe Scripture places homosexual activity outside of God's design for human sexuality, are responsible for the bullying of gay students and, by extension, their deaths.
As provocative as that narrative may be, and it certainly has ginned up quite a lot of controversy of late, it is not accurate. Not only is Christianity not to blame for attacks against gays and lesbians, when properly interpreted and practiced, it is the cure for and solution to the mistreatment and abuse of anyone, for any reason.
If there is a single golden thread woven through the Bible and the faith it informs, it is this: when it comes to human rights and how we treat each other, no person is superior or inferior to the next. Yes, sin exists; and God does not condone it. But he does embrace the sinner - and that means every one of us. Scripture makes it clear we've all fallen short of the glory of God (Romans 3:23), yet makes it just as clear (Romans 5:8) that "God demonstrates his own love for us in this: While we were still sinners, Christ died for us."
So, to violate the dignity of another person, in any form or fashion, is to contradict the very basis of Gospel-centered living. And to suggest that an orthodox understanding of Christianity encourages abuse against homosexuals is a sad misreading of the very tenets of the faith.
Unfortunately, professed non-believers are not the only ones prone to misunderstanding and misapplying those tenets. The truth is, some self-described Christians do not act in Christlike ways toward those who are different than they are. Some think God sets certain behaviors aside as "super sins"; homosexuality, they believe, is of a higher (or lower) order than adultery or covetousness or lying or gossip; put more generally, they save their harshest judgments for the sins they don't struggle with themselves. That is not biblical Christianity in practice.
Those who earnestly seek to emulate Jesus understand it is a matter of applying both his word and his deeds to our lives; that's why Christianity is often described as a "walk" - it requires two legs, truth and grace, to make any forward progress. That means, since we've all fallen short of God's glory (his truth), we must regard each other as more than just the sum of our sinful behaviors (his grace).
In the end, it's the graceless behavior of bullies - against homosexuals or anyone else - that should serve to remind both Christians and non-Christians why Jesus came to earth at all: It is his way, exclusively, that provides the power to transform hearts, minds and actions.
The opinions expressed in this commentary are solely those of Jim Daly.